Design to the Fire Alarm (2 Days Workshop)
About the Program
The objective of this Workshop is to provide the candidates the Detail knowledge of Fire Alarm Designing to facilitates faster learning curves while on the job.
This course discusses the concepts, equipment selection and graphic representation of typical life-safety fire alarm systems for stores, churches, apartment houses, schools, institutions, and factories, except high-hazard.
Learning objective
Understand the different responsibilities of the Architect and the fire alarm designer;
Recognize the standard abbreviations, symbols and terminology used with fire alarms;
Be familiar with plan drawing representation, graphic riser diagrams and specification of systems;
Be able to research NFPA 72 and contact proper local authorities to answer specific questions involved in fire alarm system design;
Understand the differences hard-wired and addressable systems;
Understand the importance of supervised operation of initiating devices, notification devices, annunciation devices and interface relays;
Understand the benefits and hazards of integrating building automation and other systems with fire alarm functions;
Understand the present and expected requirements of a smoke control system;
Understand the available features of pull stations, including single-action, double-action, alarming covers and locked units;
Understand the available features of smoke detectors, including analog, ionization, photoelectric, smoke signature, duct detectors, and test/reset stations;
Understand the available features of heat detectors, including analog, fixed temperature, rate of rise and test aids;
Recognize the names and basic principles associated with specialized detectors, such as beam detectors and UV sensors;
Recognize the differences among multi-sensor, multi-criteria and combination detectors;
Understand the relationship between the sprinkler system and the fire alarm;
Know the rules for locations of pull stations and detectors;
Understand the features of notification devices including voice, audible, visual;
Know the rules for locations and types of notification devices;
Know the rules for interconnection between individual room smoke alarms and general building evacuation systems.

Mode / Duration
Learning-Based Outcomes
Get hands-on experience in applying design tools & techniques to real engineering problems and understand Design, Engineering, Construction, O & M, etc. Thus, become a Technology Driven Engineering Professional.
Trainer
Delivered by Senior Industry Professionals having extensive experience in Design & Engineering in diverse domains & industries. These practitioners are also Empanelled as subject matter experts with SmartBrains Engineers & Technologist Pvt. Ltd.
Content
Get 24 x 7 access to SmartBrains LMS platform (Online/Offline) with Abundant Content on Process Engineering including Courseware (PPT / PDF), data, case studies, articles, books, videos, examples, presentations, resource library & related more.
Job Oriented Outcomes
Fill the Void of Talent Shortage in Design Engineering by becoming eligible for thousands of High Paying Jobs in India & Abroad with an upgraded profile through this skill & certification. Additionally, Get Promoted from your current position with the added skill set.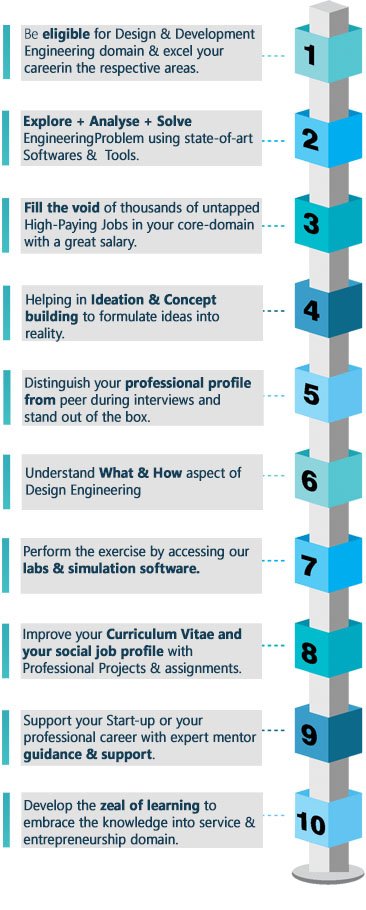 GENERAL

Fire alarm system and components

QUALITY ASSURANCE

National Electrical Code
Underwriter's Laboratory

MATERIALS

Addressable fully electronic.
Main fire alarm control panel with remote LED display annunciator.
Synchronized strobes.
Non-electronic framed plexiglass annunciator with floor plan and room numbers.

EXECUTION
INSTALLATION

Design and install per NFPA requirements.
Wiring to be installed in conduit.
SmartBrains is associated with The National Skill Development Corporation (NSDC) as the Training and Certification partner for various job oriented training programs across various sectors including Oil & Gas, Power, Renewable Energy, Hydrocarbon, IT & ITs, Electronics, Telecom, Agriculture, Life science, etc. offering assessment based Training & certifications for a gamut of job profile.
Who should join?
Working professionals in Domains: Site Engineering, Construction & Commissioning operation & Maintenance, Technicians in Electronics Engineering Field.
Students (Electronics Engineering, Diploma in Electronics Engineering) who want to develop their career in Design Engineering.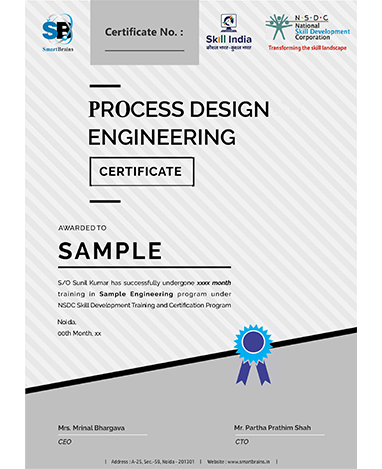 For Corporate queries
A-25, Sector-59, Noida (UP),India
Pin Code-201301
Connect with Program Advisor
training@smartbrains.com
+91 8955560560 | +91 9891108700
www.smartbrains.com
Nodal Centers
Noida, Dehradun
Guwahati, Pune
Course Features
Lectures

0

Training Mode

Online|Classroom

Duration

12 hours

Certification

Yes (NSDC)

Students

0

Assessment

Yes (Third Party)
Get In Touch With Us
[contact-form-7 404 "Not Found"]
Click for brochure :