Electrical Design Engineering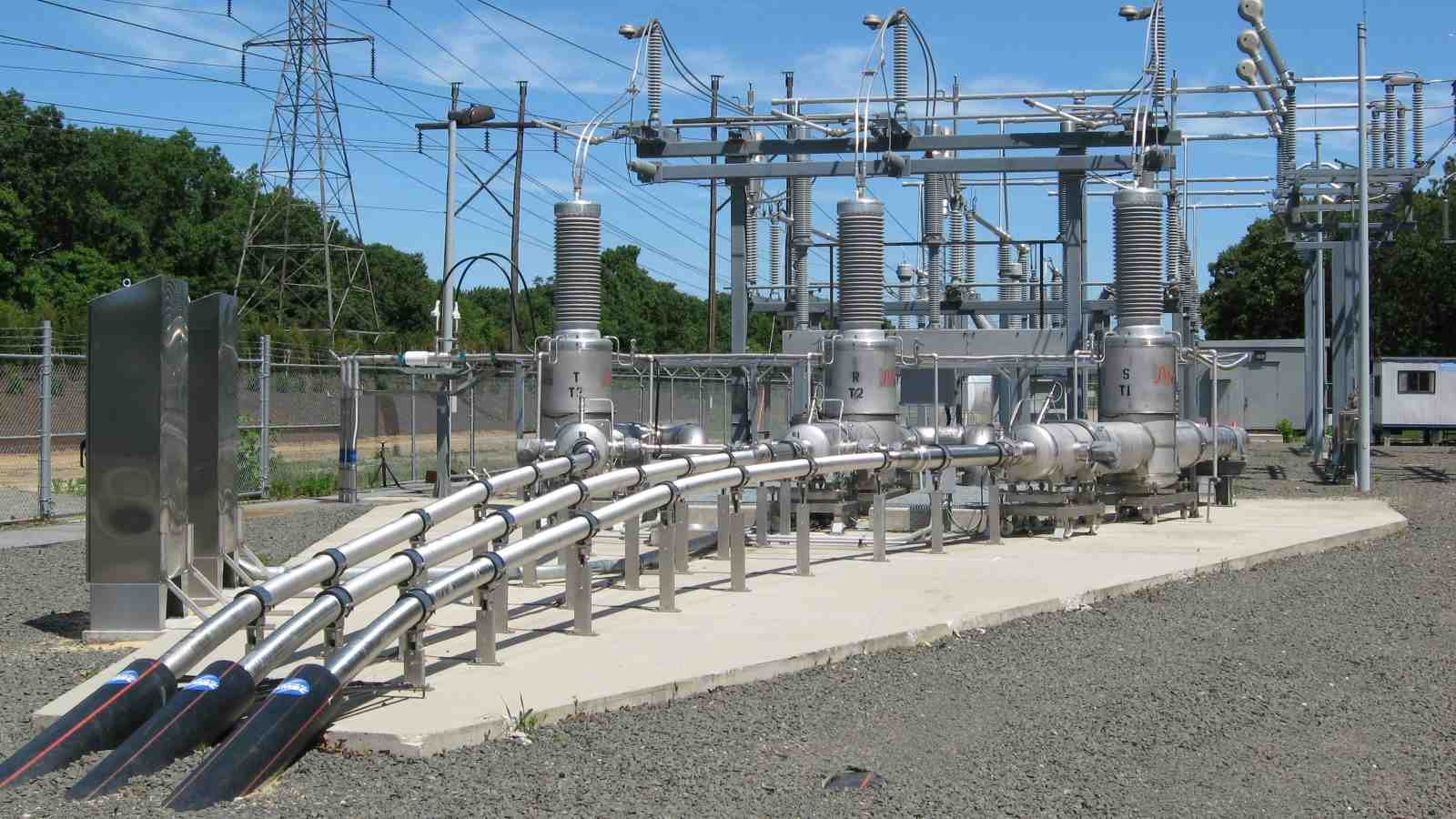 About the Program
The objective of this course is to provide the candidates the Detail knowledge and skills in Electrical Design discipline to facilitate faster learning curves while on the job.
The design and construction of industrial plants involve a multi-disciplinary team effort. The goal is to design safe and dependable processing facilities in a cost-effective manner. The fact is that there are very few formal training programs that focus on design and engineering of Electrical systems of such big industrial plants. Our Electrical Design Engineering Program is designed by Industry experts that cover the best approaches and most in-use practices for Electrical Systems Design & Engineering for Oil and Energy Sector.
This course is to provide delegates the Detail knowledge and skills into Design, Engineering, Construction, Commissioning operation & Maintenance in the field of Electrical Engineering for Oil & Energy Sector.
Learning objective
Introduction to oil and Energy Industry
Role of Electrical Design Engineer in Industry
Engineering Procurement and construction (EPC) contracts.
Codes & Standards, Design Basis, std. practices and specifications
Electrical Drawings and Documentations
Fundamentals of Electrical Design & Engineering
Developments of Single Line Diagrams and Control Schematics
Load Estimation of Plants
Selection, Sizing and Protections of Electrical Equipments
Cables Selection, Sizing and Cable Routing
Plant Lighting System Design & Illumination Design
Fundamentals of Plant Earthing Design and Protections
Hazardous Area Classification
Substation / Switchyard Design
System Studies (Load Flow, Short Circuit Analysis)

Mode / Duration
Weekend- 2 Months
Online- 3 Months
Learning-Based Outcomes
Get hands-on experience in applying design tools & techniques to real engineering problems and understand Design, Engineering, Construction, O & M, etc. Thus, become a Technology Driven Engineering Professional.
Trainer
Delivered by Senior Industry Professionals having extensive experience in Design & Engineering in diverse domains & industries. These practitioners are also Empanelled as subject matter experts with SmartBrains Engineers & Technologist Pvt. Ltd.
Content
Get 24 x 7 access to SmartBrains LMS platform (Online/Offline) with Abundant Content on Process Engineering including Courseware (PPT / PDF), data, case studies, articles, books, videos, examples, presentations, resource library & related more.
Job Oriented Outcomes
Fill the Void of Talent Shortage in Design Engineering by becoming eligible for thousands of High Paying Jobs in India & Abroad with an upgraded profile through this skill & certification. Additionally, Get Promoted from your current position with the added skill set.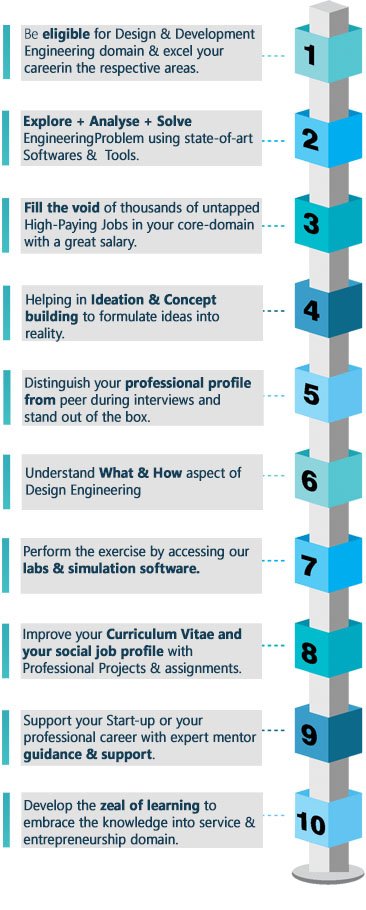 Introduction to power system & EPC contacts

Various forms of energy and energy conversion
Conventional power sources – coal-fired, hydro and nuclear power plants
Renewable power sources – Solar, wind, biomass
Transmission and distribution of electricity
Electrical Distribution Systems
Introduction of key electrical equipment used in projects
Overview of Codes & Standards IEC / ANSI / IEEE
What is an EPC Contacts
The tender & procurement process
The scope of works
Consideration aspects in site selection.

Estimation of plant electrical load

Preparation of load schedule.
Determination of power supply capacity.
Standby capacity consideration.
Rating of generators in relation to prime movers.
Importance of max and min temp.
Rating of motors in relation to their driven machines.

Engineering Drawings

Introduction to Single-line and 3-line diagrams.
Design & Development of – Key SLD – Detail SLD – Lighting system SLD- Small power SLD
Introduction to Control schematics.
Logic gates and logic diagrams.
Cabling and wiring drawings.
Lighting layout design.
Cable routing layout.
Earthing layout design.
Lightning layout design.
Layout drawings for different applications.

Electrical equipment selection sizing and protections

Selection, Sizing, Protection,    Specification, Data-Sheet, Vendor Data Review of following Electrical Equipment Generators, Transformers, Motor                Equipment Protection, Power Capacitor    Banks, HV/MV/LV Switch Gears, HV/MV/LV Capacitor Bank, Power        Reactor, CT/PT, Bus Duct, AC UPS, DC UPS, Variable Speed Drives
Cables selection, sizing, and cable routing

Power and Control Cable
Cable selection
Cable sizing for Low voltage system
Cable sizing for High voltage system
Voltage Drop Consideration
Let through Energy consideration
Earth Fault Loop Impedance consideration
Cable Schedule
Cable interconnection Schedule
Selection and Sizing of Cable Tray
Cable tray schedule
Cable Drum schedule
Conduit Selection
Cable routing Layout
Cable Tagging &Installation details
Plant lighting & illumination design

Type of Lighting Fixtures
Selection of Lighting Fixtures
Preparation Of Fixture Schedule
Indoor Illumination Calculation
Outdoor Illumination Calculation
Street Lighting calculations
Calculations on Software
Lighting Layout Design
Lighting Installation Detail
Incandescent lamps, high intensity. discharge lamps, mercury vapor, metal halide lamps, fluorescent lamps, compact fluorescent lamps, LEDs.
Luminaire concepts.

Fundamentals of plant earthing design and surge protection

The requirement of Earthing in Industrial Plants
Earthing Design calculations
Type of Earthing and Details
Earthing Installation Details
Earthing Layout Design
Power supply System Grounding
Equipment (Protective) Earthing
Ground Electrode System
Lightning Protection Requirement
Lightning Protection Calculation
Lightening Installation Details
Lightening Layout Design
Material Take Off
Surge Protection
Surge Protection – Surges: Types and methods of coupling. – Protection of electrical components against surges. – Surge protection zones and protection grading.

Hazardous area classification

Zone /Division Classification
Types of Protection for Hazardous Areas
Hazardous source List Preparation
Certification of Hazardous Area Equipment
Marking of Equipment Nameplates

Substation / SwitchYard Design

Type of Sub-Stations
Legislation, Standards,
Drawings and Documents
Substation Layout and Equipment
Surge Arresters, Line Traps,
Power Insulators,
Bushings, Bus bars, and Connectors
CT, PT, PLCC, BPT- Protection, Lighting, – Substation Earthing Protections

System studies and calculations

Short circuit analysis (Fault calculation and stability studies).
Load flow analysis.
Motor starting study.
Harmonics study.
Relay coordination study.
Other modules based on attendees' request and time permitting.
System studies practice on software
SmartBrains is associated with The National Skill Development Corporation (NSDC) as the Training and Certification partner for various job oriented training programs across various sectors including Oil & Gas, Power, Renewable Energy, Hydrocarbon, IT & ITs, Electronics, Telecom, Agriculture, Life science etc. offering assessment based Training & certifications for a gamut of job profile.
Who should join?
Working professionals in Domains: Site Engineering, Construction & Commissioning operation & Maintenance, Technicians in Electrical Engineering Field.
Students (Electrical Engineering, Diploma in Electrical Engineering) who want to develop their career in Design Engineering.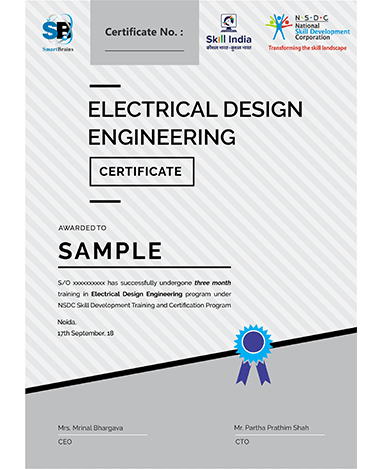 For Corporate queries
A-25, Sector-59, Noida (UP),India
Pin Code-201301
Connect with Program Advisor
training@smartbrains.com
+91 9891108002 | +91 9891108700
www.smartbrains.com
Nodal Centers
Noida, Dehradun
Guwahati, Pune
Course Features
Lectures

0

Training Mode

Online|Classroom

Duration

70 hours

Certification

Yes (NSDC)

Students

0

Assessment

Yes (Third Party)
Get In Touch With Us
[contact-form-7 404 "Not Found"]
Click for brochure :