Engineering Project Management
About the Program
The objective of this course is to provide the candidates the Detail knowledge and skills in Process Safety Engineering discipline to facilitate faster learning curves while on the job.
Advanced Certificate in Project Management is for Engineers and Managers who are currently or soon to be managing projects from an 'end to end' perspective. It is delivered in the context of Engineering, over a 3-month period, within a structured online environment (including online assessment support), which enables participants to have the flexibility of undertaking learning in their own time and at their own pace.
Learning objective
Cost effective: no travel or accommodation necessary
Interactive: live, interactive sessions
Flexible: short interactive sessions over the Internet which you can attend from your home or office.
Practical: perform exercises by remotely accessing tools and software
Expert instructors: instructors have extensive industry experience
No geographical limits: learn from any location
Constant support: from your instructor(s) and a dedicated Learning Support Officer for the complete duration of the course
Monitor the 'health status' of a Project across the phases of the Project Lifecycle using a Dashboard approach.
Understand the Project Control cycle and the mechanisms and systems required to ensure effective Project Management.
Effectively manage the close down phase of a project

Mode / Duration
Weekend – 3 Months
Online     –  3 Months
Learning-Based Outcomes
Get hands-on experience in applying design tools & techniques to real engineering problems and understand Design, Engineering, Construction, O & M, etc. Thus, become a Technology Driven Engineering Professional.
Trainer
Delivered by Senior Industry Professionals having extensive experience in Design & Engineering in diverse domains & industries. These practitioners are also Empanelled as subject matter experts with SmartBrains Engineers & Technologist Pvt. Ltd.
Content
Get 24 x 7 access to SmartBrains LMS platform (Online/Offline) with Abundant Content on Process Engineering including Courseware (PPT / PDF), data, case studies, articles, books, videos, examples, presentations, resource library & related more.
Job Oriented Outcomes
Fill the Void of Talent Shortage in Design Engineering by becoming eligible for thousands of High Paying Jobs in India & Abroad with an upgraded profile through this skill & certification. Additionally, Get Promoted from your current position with the added skill set.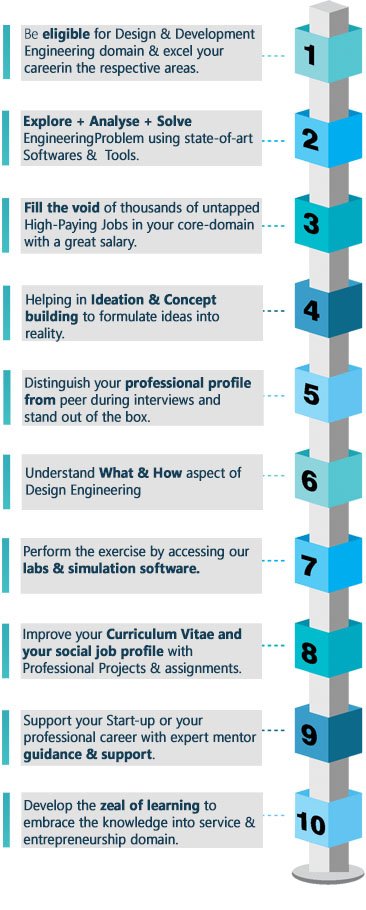 Module – 1 Introduction

What is a project?
Project life cycles
What is project management?
Professional Bodies of Knowledge
Project organizations
The project lifecycle
Project Methodology
Project success criteria

Module -2  Projects and Strategies

Strategic – Planning
Aligning Strategy with Projects
PM Methodology as a system
Quality project plans
Work breakdown structures

Module – 3 Initiating the project

Projects and portfolio
Projects and power
Projects and politics
Projects and personality

Module – 4 Scope-planning

Project scope-planning
Scope management planning
Vision influences scope
Project scope definition
Scope change control process
Three types of life cycles: Product, Project, Project Management
Differentiating between project management and the APQP process
Major types of Product Development Models

Module – 5 Project Time Management-planning

Work breakdown structure
Activity and task definition
Activity sequencing
Estimating Durations
The project schedule
Milestones
Task sequencing
Critical path method
Precedence method

Module – 6 Project Cost Planning

Cost estimating
Project cost analysis methods and estimating methods
Recognizing and dealing with Scope Creep
Control techniques

Requirements for an effective Change Management System
Earned Value Analysis (EVA)
Effective meeting techniques
Forming and leading project teams
Establishing Performance Metrics for Project team
Recognizing and resolving internal and external conflict

Resource planning
Cost management plan

Module – 7 Quality-planning Management

Project Quality-Planning
Quality concepts and definitions
Quality management fundamentals
Supply chain relationships
Quality assurance systems
ISO 9000:2005 quality system guidelines
Quality Assurance (QA)
Quality Control (QC)
Project quality plan

Module – 8  Risk-planning

Definitions
Risk identification
Risk analysis
Risk treatment
Project risk-planning
Risk Identification
Risk analysis and measurement
Risk response
Components and construction of an effective Risk Management Plan
Addressing product liability using the FMEA and HAZOP
Risk qualification quantification techniques — Developing effective checklists; Risk Register/Quadrant Mapping, Expected Values Matrix; Probability and Impact Matrix

Module – 9  Procurement Planning Management

Determining requirements unit
Resources Planning process
The Green Trend
Understanding partner supplier relationships
Suppliers rating techniques
Suppliers skill requirements for today's Product Development Environment
Considerations for the Project Manager
Green procurement

Module – 10  Communication-planning

Projects Communications-planning
Communication Planning
Information Management

Module – 11  Human resources-planning

Project Human Resource Planning
Choosing an organizational structure to support effective Project Management
Roles and responsibility matrix (RASIC)
Developing and managing an effective Staffing and Resource Plan
Leadership & General Management
Management/leadership theories
Roles & Responsibilities
Authority and power of the project manager
Project management functions & Skills
HR Policies and Practice
Human Resource Plan

Module – 12  The Project team

Selecting the Team
Team Building
Performance management

Module – 13  The Contractors    

Communicating requirements
Contractor selecting
Contract Development

Module – 14  Monitoring the Project

The dashboard
Monitoring-Scope
Monitoring-Time
Monitoring-Cost
Monitoring-Quality
Monitoring-Risk
Monitoring-Procurement
Monitoring-Communication
Monitoring-HR

Module – 15  Controlling the project       

Taking control
Controlling-Scope
Controlling-Time
Controlling-Cost
Controlling-Quality
Controlling-Risk
Controlling-Procurement
Controlling-Communications
Controlling-HR

Module – 16  Methods and Techniques

Critical Path method
Forward Pass-Early Start
Backward Pass- Late Start
Critical Chain Method
Earned Value Technique
Forecasting

Module – 17 Closing the Project

Continuous Improvement Cycle
Closing-Scope
Closing-Time
Closing-Cost
Closing-Quality
Closing-Risk
Closing-Procurement
Closing-Communications
Closing-HR
Closing the project
SmartBrains is associated with The National Skill Development Corporation (NSDC) as the Training and Certification partner for various job oriented training programs across various sectors including Oil & Gas, Power, Renewable Energy, Hydrocarbon, IT & ITs, Electronics, Telecom, Agriculture, Life science etc. offering assessment based Training & certifications for a gamut of job profile.
Who should join?
Working professionals in Domains: Site Engineering, .Construction & Commissioning operation & .Maintenance, Technicians in Process Engineering Field.
Students (Chemical Engineering, Diploma in Chemical .Engineering) who want to develop their career in Design Engineering.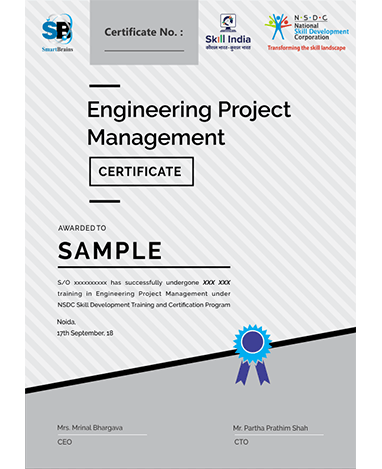 For Corporate queries
A-25, Sector-59, Noida (UP),India
Pin Code-201301
Connect with Program Advisor
training@smartbrains.com
+91 8955560560 | +91 9891108700
www.smartbrains.com
Nodal Centers
Noida, Dehradun
Guwahati, Pune
Course Features
Lectures

0

Training Mode

Online|Classroom

Duration

50 hours

Certification

Yes (NSDC)

Students

0

Assessment

Yes (Third Party)
Get In Touch With Us
[contact-form-7 404 "Not Found"]
Click for brochure :