Heating, Ventilation And AIR-CONDITIONING (HVAC): Design & Engineering
About the Program
The objective of this course is to provide the candidates the Detail knowledge and skills in HVAC Design discipline to facilitate faster learning curves while on the job.
This HVAC course is designed as per International Code & Standard Aligned to current Industry demand that will enable candidates to secure their jobs in various domain of HVAC. The application of Heating, Ventilating, and Air-Conditioning (HVAC) controls starts with an understanding of the building and the use of the spaces to be conditioned and controlled. All control systems operate in accordance with a few basic principles but before we discuss these, let's address a few fundamentals of the HVAC system first.
Learning objective
The course provides the student with knowledge about:
Background for requirement specifications for indoor air quality, energy supply, and energy use.
Application of dynamic simulation software for the design of energy supply and climate systems, and for evaluation of indoor environment and energy efficiency
System solutions for renewable energy production and heat storage
System solutions for ventilation and tempering of rooms
System solutions for domestic hot water supply, sewerage, and preparation of domestic hot water
Methods for sizing of ventilation, heating, and cooling
Principles of natural ventilation
Methods for sizing of central heating systems
Functional principles of components of air conditioning plants; filters, dampers, fans, ducts, pumps, valves, pipes, heat exchangers and control components
Minimize forced outages and prevent serious damage to HVAC equipment
Outline the technologies available for efficient energy management using HVAC systems

Mode / Duration
Learning-Based Outcomes
Get hands-on experience in applying design tools & techniques to real engineering problems and understand Design, Engineering, Construction, O & M, etc. Thus, become a Technology Driven Engineering Professional.
Trainer
Delivered by Senior Industry Professionals having extensive experience in Design & Engineering in diverse domains & industries. These practitioners are also Empanelled as subject matter experts with SmartBrains Engineers & Technologist Pvt. Ltd.
Content
Get 24 x 7 access to SmartBrains LMS platform (Online/Offline) with Abundant Content on Process Engineering including Courseware (PPT / PDF), data, case studies, articles, books, videos, examples, presentations, resource library & related more.
Job Oriented Outcomes
Fill the Void of Talent Shortage in Design Engineering by becoming eligible for thousands of High Paying Jobs in India & Abroad with an upgraded profile through this skill & certification. Additionally, Get Promoted from your current position with the added skill set.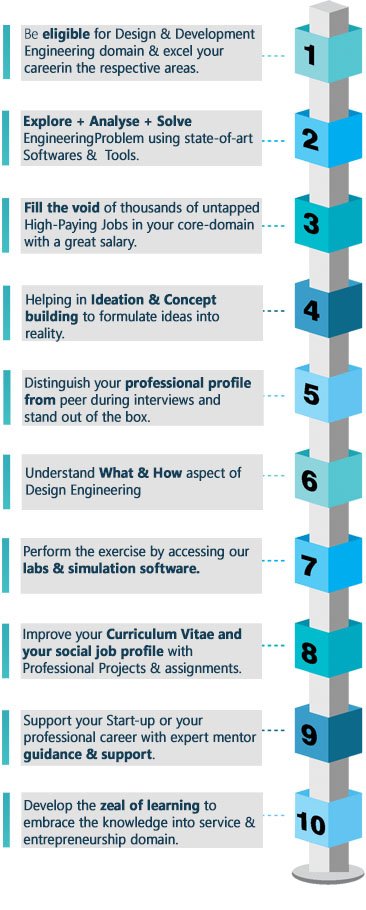 Introduction to HVAC

Principles of thermodynamics
Pressure and temperature relationship
Fundamentals of heat transfer
Fundamentals of fluid flow

Psychrometry

Introduction to psychrometry
The properties of air
Understanding the psychrometric charts

Requirements of Comfort air conditioning 

Air purification methods
Thermodynamics of the human body
Role of clothing
Comfort and comfort chart
Design considerations
Requirements of temperature and humidity high heat load industries
Recommended inside design conditions
Indoor air quality

Heating AND Cooling Load Calculation Procedure

Design considerations
Internal sensible and latent heat load components
Design condition
Indoor and outdoor conditions
External load components
Miscellaneous heat sources
Fresh air load

HVAC Systems
Hot water heating system
Steam heating systems
Electric heating systems
Air-conditioning systems: General
Air handling units
Functional variations in the design
Capacity calculation of an air handling unit

Duct design, air flow, and its distribution

Airflow and pressure losses
Duct design
Air distribution system inside space Ventilation systems

Insulation of Air conditioning systems AND Air Conditioning

Equipment Desired properties of an ideal
Insulating material
Factors affecting thermal conductivity
Types of insulation materials
Insulated systems
Importance of relative humidity for the selection of insulation
Air-conditioning equipment
Air filters, humidifiers, dehumidifiers

Installation, Commissioning, Operation, and Maintenance

Installation
Charging the refrigeration unit
Adding oil to the compressor
Commissioning
Other service operations
Maintenance
SmartBrains is associated with The National Skill Development Corporation (NSDC) as the Training and Certification partner for various job oriented training programs across various sectors including Oil & Gas, Power, Renewable Energy, Hydrocarbon, IT & ITs, Electronics, Telecom, Agriculture, Life science etc. offering assessment based Training & certifications for a gamut of job profile.
Who should join?
Working professionals in Domains: Site Engineering, .Construction & Commissioning operation & .Maintenance, Technicians in Process Engineering Field.
Students (Chemical Engineering, Diploma in Chemical .Engineering) who want to develop their career in Design Engineering.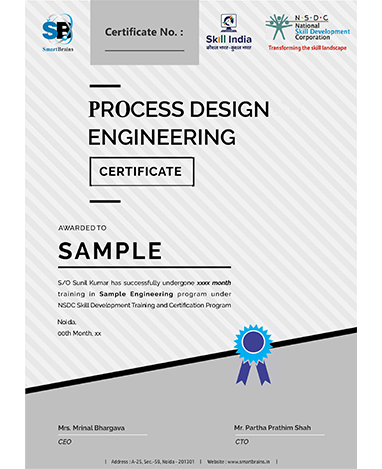 For Corporate queries
A-25, Sector-59, Noida (UP),India
Pin Code-201301
Connect with Program Advisor
training@smartbrains.com
+91 8955560560 | +91 9891108700
www.smartbrains.com
Nodal Centers
Noida, Dehradun
Guwahati, Pune
Course Features
Lectures

0

Training Mode

Online|Classroom

Duration

2/6 Months

Certification

Yes (NSDC)

Students

0

Assessment

Yes (Third Party)
Get In Touch With Us
[contact-form-7 404 "Not Found"]
Click for brochure :