Instrumentation Design Engineering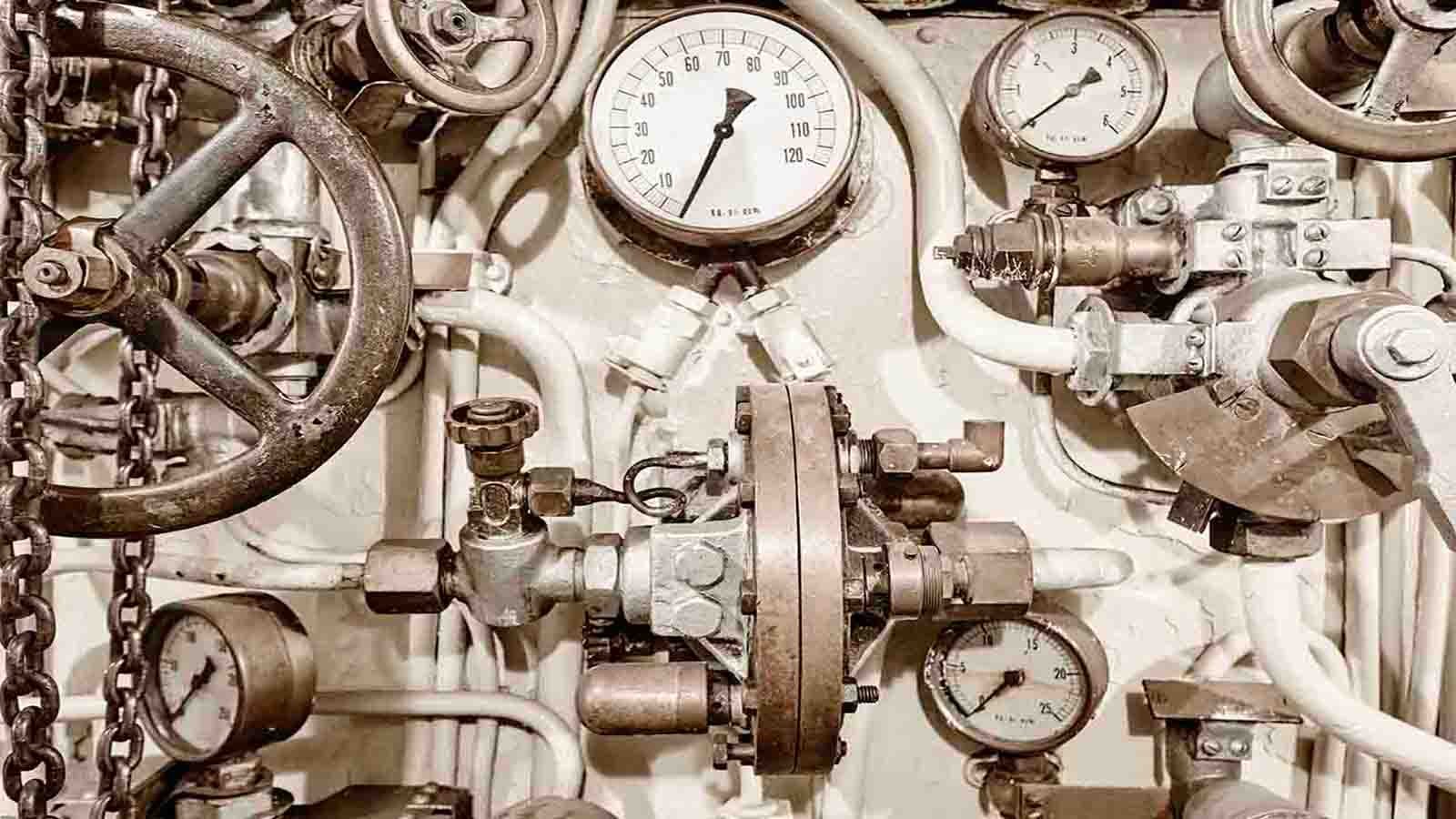 About the Program
The objective of this course is to provide the candidates the Detail knowledge and skills in Instrumentation Design discipline to facilitate faster learning curves while on the job.
This course is to provide basic knowledge and skills in this discipline of Instrumentation Design Engineering for Oil & Gas sector. This course will cover the fundamental principles and concepts used in Instrumentation Design & Detailing. Upon completion of this course, students will have a clear understanding of the design principles used in Instrumentation System Design for Oil & Gas Energy Sector.
The goal of this course is to provide delegates the Detail knowledge and skills into Design, Engineering, Construction, Commissioning operation & Maintenance in the field of Instrumentation Design Engineering for Oil & Energy Sector.
Learning objective
Overview of EPC Industry and Scope.
Role of Instrumentation Engineer in various types of
Knowing Client requirements and collection of specific data for projects.
Relevant Codes & Standards.
Basic Design requirement based on the type of plant g. Chemical, Petrochemical, Pharmaceutical  Industrial, power plant etc.
Selection of Instruments for Controlling Flow, Temperature, level and Pressure.
Vendor's details and specification for all Instruments used to control Flow, Level, Temperature and
Installation and maintenance Tips of all Instruments.
Instrument Index, Instrument Location Plan Details
Process Data sheets and Specifications, Instrument Data Sheets
Instrument Wiring Layout, Logic Diagrams
Loop Drawing, Loop Wiring Diagram, JB Layout
Cable Schedule, Cable Tray Layout
Hook-Up Drawing

Mode / Duration
Weekend- 2 Months
Online- 3 Months
Learning-Based Outcomes
Get hands-on experience in applying design tools & techniques to real engineering problems and understand Design, Engineering, Construction, O & M, etc. Thus, become a Technology Driven Engineering Professional.
Trainer
Delivered by Senior Industry Professionals having extensive experience in Design & Engineering in diverse domains & industries. These practitioners are also Empanelled as subject matter experts with SmartBrains Engineers & Technologist Pvt. Ltd.
Content
Get 24 x 7 access to SmartBrains LMS platform (Online/Offline) with Abundant Content on Process Engineering including Courseware (PPT / PDF), data, case studies, articles, books, videos, examples, presentations, resource library & related more.
Job Oriented Outcomes
Fill the Void of Talent Shortage in Design Engineering by becoming eligible for thousands of High Paying Jobs in India & Abroad with an upgraded profile through this skill & certification. Additionally, Get Promoted from your current position with the added skill set.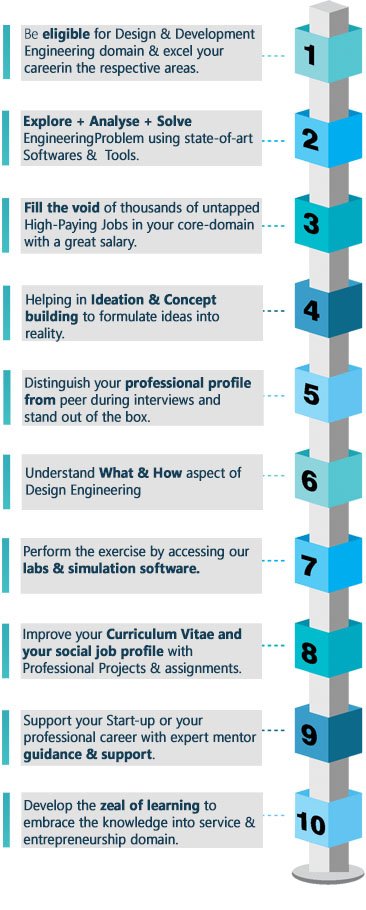 Introduction to oil and gas industry & EPC contracts

General Industry overview and basic concepts
Oil and gas prospecting(exploration)
Oil and gas production facilities
What is an EPC contract
The tender & procurement process
The scope of works

Hazardous Areas

Definitions
Introduction: explosion consequences
Classification system: sources of release and zoning
Classification of apparatus: grouping and temperature
Instruments and instrument symbols
Hazardous Definition for instruments system
Hazardous is of classification
Hazardous analysis, hazardous operation
Hazardous identification
Concept of the group, div, zones and classes, temperature, explosion triangle and mode of safety

Introduction to process measurement

Basic measurement concepts
Definition of terminology
Measuring instruments and control valves as part of the overall control system
Pressure Measurement
Principle of pressure measurement
Pressure transducers and elements
Level Measurement
Principles of level measurement
Simple sight glasses
Hydrostatic pressure
Ultrasonic measurement
Electrical measurement
Density measurement
Temperature Measurement
Principles of temperature measurement
Thermocouples
Resistance Temperature Detectors (RTD's)
 Flow Measurement
Principles of flow measurement
Open channel flow measurement
Oscillatory flow measurement
Magnetic flow measurement
Positive displacement
Ultrasonic flow measurement
Mass flow measurement
Control Value Essentials

Introduction to control valve theory
Different types of control valves
Characteristics
High-pressure drop applications
Sizing of control valves, actuation and essential accessories

Examples of high-pressure drop applications
Actuators
Petitioners
Pneumatic circuits

Control Valve Material, Standards, Applications, Maintenance and Installation
– Materials
– Quality Standards
– Severe Service Applications
– Pressure Relief Valves
– Installation and Maintenance
ESD and F&G Emergency Shutdown Logics (ESD)

Input & output measurement standards
ESD (Emergency Shutdown Logics)
I/O type, operation and applications Fire & Gas (F&G)
Basics of fire & gas (F&G) system
Type of detector & alarm system
Working principle of F & G system

Instrumentation standards in oil and gas, E & I drawings and documentation

Plant documentation
The role of plant documentation, standards and specifications
Drawing Types and Standards
Standards organizations (ISA, IEC, ISO)
Understanding diagram layouts and formats
ISO 9002 and document control
API RP14F – Section 122 – electronic instrumentation
ISA standards library for automation and control
Specification forms – ISA S20 – specification forms for process measurement

Instrumentation Drawings, Documentation & Schematics

Instrument index sheet
Instrument data/spec sheet
Process data sheet
Calculation and Sizing
Input/output list
Cable schedule
JB schedule
Conventional instrument field wiring
Instrumentation drawings/layout
Type of layout & drawing management
Piping & instrumentation diagram (P&ID)
Process flow diagram
Logic diagram
Loop diagram
Hook-ups/isometric diagram
Standard symbols & instrument legends
Nomenclature
Field wiring diagram
Logic diagram
Level sketch
JB layout diagram
Cable tray layout & routing diagram
Instrument nozzle elevation drawing
Control valve assembly
Mounting layout (supports, anchors, sleepers & guides)
SmartBrains is associated with The National Skill Development Corporation (NSDC) as the Training and Certification partner for various job oriented training programs across various sectors including Oil & Gas, Power, Renewable Energy, Hydrocarbon, IT & ITs, Electronics, Telecom, Agriculture, Life science etc. offering assessment based Training & certifications for a gamut of job profile.
Who should join?
Working professionals in Domains: Site Engineering, Construction & Commissioning operation & Maintenance, Technicians in Instrumentation Design Engineering Field.
Students (Instrumentation & Electronics Engineering, Diploma in Instrumentation & Electronics Engineering) who want to develop their career in Design Engineering.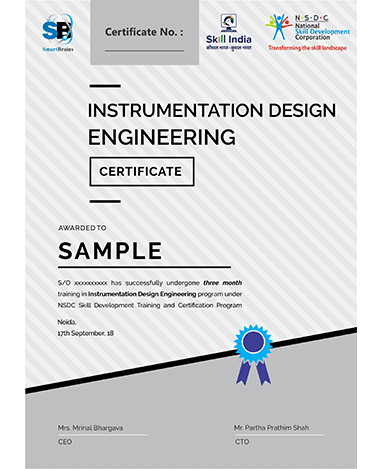 For Corporate queries
A-25, Sector-59, Noida (UP),India
Pin Code-201301
Connect with Program Advisor
training@smartbrains.com
+91 9891108002 | +91 9891108700
www.smartbrains.com
Nodal Centers
Noida, Dehradun
Guwahati, Pune
Course Features
Lectures

0

Training Mode

Online|Classroom

Duration

70 hours

Certification

Yes (NSDC)

Students

0

Assessment

Yes (Third Party)
Get In Touch With Us
[contact-form-7 404 "Not Found"]
Click for brochure :