Solar Power Plant Technology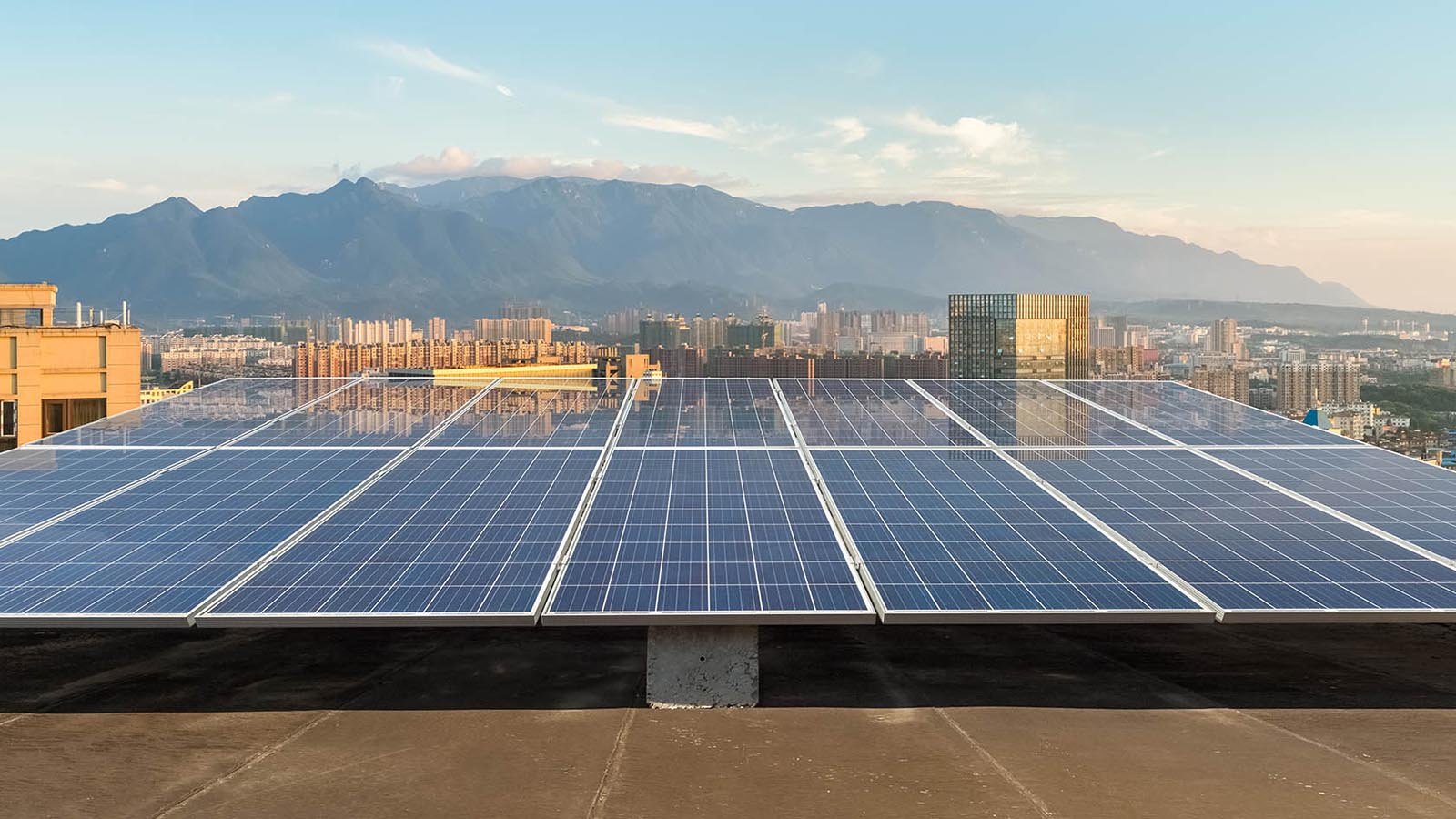 About the Program
The objective of this course, Candidates will learn how to generate system designs and supporting documentation for solar Photovoltaic (PV) systems which includes production of plans for building permit applications and construction, specification of solar equipment and components, design of systems, and mechanical and electrical points of connection for on-grid and off-grid Photovoltaic (PV) system.
Solar Design entails Planning; dynamics of PV deployment have been particularly remarkable, driven mostly by feed-in tariffs. PV is extremely modular, easy and fast to install and accessible to the general public. With suitably established policies and mature markets and finance, PV projects can have short lead times. The rapid cost reductions driven by this deployment have confirmed earlier expectations related to the learning rate of PV. They have also increased confidence that sustained deployment will reduce costs further – if policies and incentives are adjusted to cost reductions, but not discontinued.
Learning objective
Understanding of Renewable energy, latest trends, and technologies.
Introduction to Solar Power Plant /Solar Radiation
Fundamental of Photovoltaic Technology
Role of Solar Design Engineer in Industry
Knowing Client requirements & collection of specific data for projects.
Understanding various phases of projects.
Series and parallel circuit/PV Cells selection and sizing
Inverters selection and sizing/Module mounting system
Plant Installation and commissioning
Introduction to Power Distribution System
Matching Array and Inverter sizing/Balance of system and protection
Cable Sizing and Energy Efficiency and calculation
System losses of the solar power plant/Solar power plant site survey and assessment
Yield performance/ maintenance and troubleshooting
Understanding of concepts for the operating plant.
Megawatt solar power plant system /Smart Grid/net metering
Costing and Tendering of solar power plant
Introduction to management of Health, Safety, and Environment

Mode / Duration
Weekend- 2 Months
Online- 3 Months
Learning-Based Outcomes
Get hands-on experience in applying design tools & techniques to real engineering problems and understand Design, Engineering, Construction, O & M, etc. Thus, become a Technology Driven Engineering Professional.
Trainer
Delivered by Senior Industry Professionals having extensive experience of Design & Engineering in diverse domains & industries. These practitioners are also Empanelled as subject matter experts with SmartBrains Engineers & Technologist Pvt. Ltd.
Content
Get 24 x 7 access to SmartBrains LMS platform (Online/Offline) with Abundant Content on Process Engineering including Courseware (PPT / PDF), data, case studies, articles, books, videos, examples, presentations, resource library & related more.
Job Oriented Outcomes
Fill the Void of Talent Shortage in Design Engineering by becoming eligible for thousands of High Paying Jobs in India & Abroad with an upgraded profile through this skill & certification. Additionally, Get Promoted from your current position with the added skill set.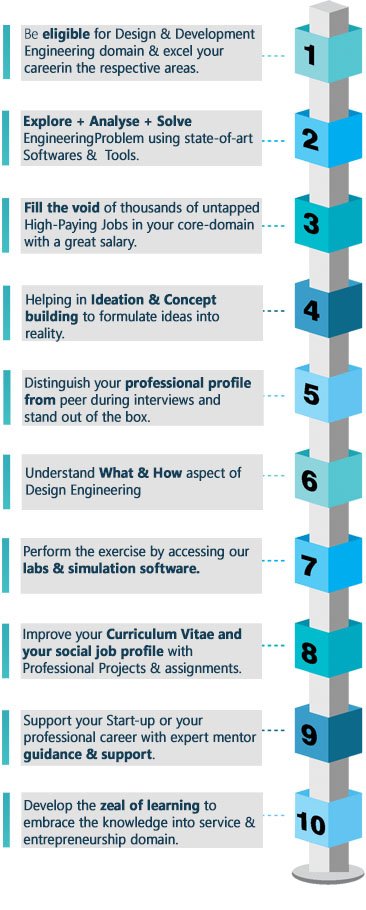 Introduction to Solar Energy & PV Technology

Solar radiation and geometry.
Physics of light.
Solar radiation at the Earth's surface.
Direct and diffuse radiation.
The apparent motion of the sun.
Unit of measurement.
Variation due to latitude, time-of-day and seasons.
Prediction and measurement of solar radiation.
PV power generation concept, standalone, grid interactive and hybrid systems.
Economics of PV Systems.
The behavior of solar cells.
Cell design and manufacturing, manufacturing methods.
Module fabrication and PV cell interconnection.
Batteries, chargers & inverter.
Electrical & mechanical system design.
Practical PV system implementation.
Design aspects of large solar plants.

Fundamentals of Photovoltaic Technology

Definition of photovoltaic.
PV cells and types of cells.
PV manufacturing.
PV modules.
Measuring open circuit voltage, short circuit.
Current and measuring devices.
The I-V curve or electrical output profile.
Module evaluation.
Module specifications.
PV performance rating conditions.

Solar Power System Design

Considerations for off-grid systems.
Considerations for grid-tied systems.
Determining system loads.
Creating a single line diagram (SLD).
Hands-on solar resource measurement and analysis.
PV system configurations and design philosophy.
PV system designing and sizing.
Sizing of the balance of plant (BOP) like inverter, charge controller and batteries, their descriptions.
Sizing and selection of cables and wires.
The general arrangement of switch yardang metering.
The general arrangement of a utility-scale power plant.
Lightening and surge protection.
Lightning arresters and risk assessment for the lightning protection system.
Electrical safety & grounding system, OSHA requirements.

Installation and Mounting Systems

Pre-Assembly.
Installation Considerations.
Health and safety considerations.
Mounting system types.
Mounting considerations.
Module location and orientation.
Racking components.

PV-System and kW-Scale PV Plant Installation

Hands-on: KW-Scale PV plant installation.

Solar Thermal Systems

Solar Hot Water-Low temperature applications.
Higher temperature applications.
Solar thermal electricity.
Heat carriers & storage.
Solar towers.

Project Planning & Management

Renewable energy policy & regulatory aspects of India.
Identification of appropriate renewable energy projects.
Methodology and approach for site and resource assessment.
Capacity or system sizing approach.
Project planning.
Techno-commercial bid preparation for renewable/solar power projects.
Bid evaluation – methods and techniques.
Contract agreement.
Quality installation practice and commissioning.
O&M planning.
Protocol for inspection & verification.
Protocol for monitoring & evaluation.
Documentation and knowledge management.
Techno-economic feasibility of renewable/solar power projects.
Preparation of detailed project reports.
Preparation of project proposal for funding.
SmartBrains is associated with The National Skill Development Corporation (NSDC) as the Training and Certification partner for various job oriented training programs across various sectors including Oil & Gas, Power, Renewable Energy, Hydrocarbon, IT & ITs, Electronics, Telecom, Agriculture, Life science etc. offering assessment based Training & certifications for a gamut of job profile.
Who should join?
Working professionals in Domains: Site Engineering, .Construction & Commissioning operation & .Maintenance, Technicians in Process Engineering Field.
Students (Chemical Engineering, Diploma in Chemical .Engineering) who want to develop their career in Design Engineering.
For Corporate queries
A-25, Sector-59, Noida (UP),India
Pin Code-201301
Connect with Program Advisor
training@smartbrains.com
+91 9891108002| +91 9891108700
www.smartbrains.com
Nodal Centers
Noida, Dehradun
Guwahati, Pune
Course Features
Lectures

0

Training Mode

Online|Classroom

Duration

50 hours

Certification

Yes (NSDC)

Students

0

Assessment

Yes (Third Party)
Get In Touch With Us
[contact-form-7 404 "Not Found"]
Click for brochure :