Piping Design Engineering Course Overview
Learning Objective :-
Plant layout fundamentals and work flow procedures
Process Plant Industry Overview & Basic Concepts
Production Facilities
Engineering, Procurement and Construction
Cost Estimation
Fundamentals of pipe and pipe Fittings:Standards, Selection, Application, Drawing Symbols & Dimensioning
Piping system components: standards,selection, application, drawing symbol & dimensioning
Piping System Design (Codes & standards)
Process Plant layout: Piping Design & Drafting
Plant Layout: 3D Modeling-Plant Design Management System (PDMS)
Equipment Modeling
Pipe Design
Draft
ISO Draft
Piping Design Engineering Course
About Course
The objective of this course is to provide the candidates the Detail knowledge and skills in Piping Design discipline to facilitate faster learning curves while on the job.
This course is to provide basic knowledge and skills in this discipline of Piping Engineering for Oil & Gas sector. This course will cover the fundamental principles and concepts used in Process Plant Layout and Piping Design Engineering. Upon completion of this course, students will have a clear understanding of the design and principles used in Piping Design System for Oil & Gas Energy Sector.
This program is to provide delegates the Detail knowledge and skills into Design, Engineering, Construction, Commissioning operation & Maintenance in the field of Piping Engineering for Oil & Energy Sector.
Event Registration Details
Mode / Duration
Fast Track- 9 Days
Weekend- 2 Months
Online- 2 Months
Learning Based Outcomes
Get hands-on experience in applying design tools & techniques to real engineering problems and understand Design, Engineering, Construction,O & M etc. Thus, become a Technology Driven Engineering Professional.
Trainer
Delivered by Senior Industry Professionals having extensive experience of Design & Engineering in diverse domains & industries. These practitioners are also Empanelled as subject matter experts with SmartBrains Engineers & Technologist Pvt. Ltd.
Content
Get 24 x 7 access to SmartBrains LMS platform (Online/Offline) with Abundant Content on Process Engineering including Courseware (PPT / PDF), data, case studies, articles, books, videos, examples, presentations, resource library & related more.
Job Oriented Outcomes
Fill the Void of Talent Shortage in Design Engineering by becoming eligible for thousands of High Paying Jobs in India & Abroad with an upgraded profile through this skill & certification. Additionally, Get Promoted from your current position with added skill set.
The program is a global standard offering that uses mixes of techniques aligned to a unique pedagogy which is Goal-Centric & Action Oriented.
Includes classroom theory, learning videos, demonstration of statistical tools like Advanced Excel Programs and Other Software tools.
Real-project case studies using the statistical tools demonstrated, exercises and brainstorming using adaptive probing methodology.
Process Plant Industry

Overview & Basic Concepts
Production Facilities
Engineering, Procurement and Construction

Fundamentals of Pipe and Pipe Fittings : Standards, Selection, Application, Drawing Symbols & Dimensioning

Definition and application of pipe
Pipe designators-IPS, NPS, NB/DN
Pipe wall thickness- schedule number,pipe weight
Pipe- lengths, ends, joining method,manufacturing methods.
Pipe symbol

Process Sizing Calculations for Plant Design

Line Sizing (Single Phase)
Line Sizing (Two Phase)
Centrifugal Pump Hydraulics

Piping system components: standard, selection, application, drawing symbol & dimensioning

Flange, Gaskets, and Bolting
Pipe hangers and supports
Pipe manufacturing processes and Material Selection
System Component
Piping System Design (Codes & standards)

Overview of piping codes & standards
Piping material and material specifications
Pressure Design of Pipe and Piping System component
Pipe Hydraulic & Line sizing
Piping System Studies

Process Plant layout: Piping Design & Drafting (Drawing and Documentation)

Flow Diagrams
Plant layouts: Piping Layouts
Equipment Layouts
Piping Isometrics
Piping Spools

Plant Layout: 3D Modeling-Plant Design Management System (PDMS)

Equipment Modeling
Pipe Design
Draft
ISO Draft
Note: For Detailed Course Structure Download the brochure.
Course Certificates
SmartBrains is associated with The National Skill Development Corporation (NSDC) as the Training and Certification partner for various job oriented training programs across various sectors including Oil & Gas, Power, Renewable Energy, Hydrocarbon, IT & ITs, Electronics, Telecom, Agriculture, Life science etc. offering assessment based Training & certifications for a gamut of job profile.
Who should join?
Working professionals in Domains: Site Engineering, .Construction & Commissioning operation & .Maintenance, Technicians in Process Engineering Field.
Students (Chemical Engineering, Diploma in Chemical .Engineering) who want to develop their career in Design Engineering.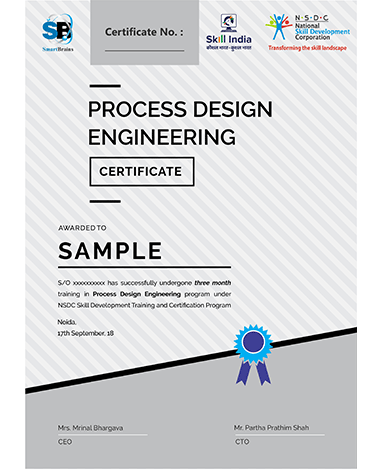 ABOUT SMARTBRAINS
SmartBrains is knowledge based multi-disciplinary organization with the work scope of whole life cycle for Engineering Consulting, Technology Services, Human resource outsourcing, Skill Development and Vocational Training Company, committed towards bringing an entire range of services for various sectors into most of business functions. Organization founded in 1998, combine deep industry experience, technical expertise and a global delivery model to create value-based solutions to fulfill industries requirements, success has been built upon the unstinted support and relationships with its partners and the patronage of its clients from across the Globe. SmartBrains has received recognition, endorsement and affiliation from National Skill Development Corporation of India (NSDC), a Public Private Partnership (PPP) , Under the Ministry of Skill Development and Entrepreneurship (Govt. of India Enterprises) & various Skill Sector Councils as an authorized training partner under various trades.
ABOUT OUR TRAINING DOMAIN
SmartBrains is the global market leader in providing high-level training services to the Oil and Gas sector, Petrochemical, Refinery, LNG, Power Plants, Fiscal, Contracts, Strategy, Process Engineering, Piping Engineering, Electrical Engineering, Instrumentation Design, Plant Equipments, Civil and Structural Engineering, HVAC, Project Management, HSE, Financial and Risk Management. Operating nation wise over the last 8 years, our courses are widely acknowledged within the energy community for quality and up-to-date information. Our success and distinguished reputation is down to our commitment to the industry, a high-level of expertise, sector knowledge, cultural diversity and experience that comes from organizing many courses.
AFFILIATION & ACCREDITATION
SmartBrains engineers and technologist Pvt. Ltd. has received recognition, endorsement and affiliation from National Skill Development Corporation of India (NSDC), a Public Private Partnership (PPP) , Under the Ministry of Skill Development and Entrepreneurship (Govt. of India) and various Skill Sector Councils as an authorized training partner under various trades. SmartBrains is authorized to provide skill based training for engineering/non-engineering candidates as per their interest. SmartBrains as a training institute will provide complete practical knowledge based skill training to the candidates and NSDC/Skill Councils will be responsible for providing recognition & certification to the candidates.
The National Skill Development Corporation (NSDC) is one of its kind, Public Private Partnership Under the Ministry of Skill Development and Entrepreneurship (Govt. of India) aims to promote skill development by catalyzing creation of large, quality and for-profit vocational institutions.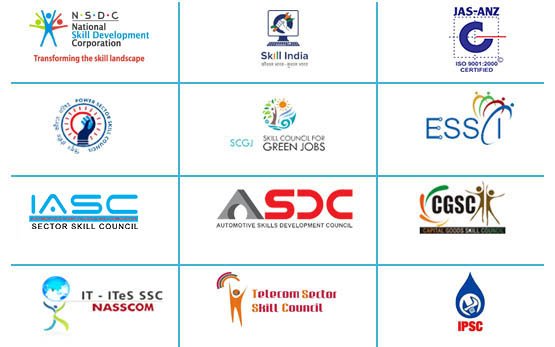 For Corporate queries
A-25, Sector-59, Noida (UP),India
Pin Code-201301
Connect with Program Advisor
training@smartbrains.com
+91 8955560560 | +91 9891108700
www.smartbrains.com
Nodal Centers
Noida, Dehradun
Guwahati, Pune