Paid Internship Program – ( 2018-19 )
Self Supported Internship & Certification Programs with the Collaboration of NSDC, Skill India and various SSC.
---
SmartBrains Technologist Engineer Pvt. Ltd. believes that Internship is not just about learning new technologies & understanding work-culture of an organization, but a pathway towards aspirant's socio-economic development that can encourage us create a pool of ready to deploy skilled manpower.
Our vision is to make students and professional 'entrepreneurial' in every work that they do. We hope to enable them to solve global challenges as we see students as the greatest capital and intend to nurture them, provide them with opportunities for excellence.
Execution Mode
• Six Months Internship with Assured Job assistance.
• Short Term Internship program with Government Certification.
Eligible Domain
Computer Science & I.T
Core Engineering
Start Date : – 19th January 2019
Location : – Noida | Hyderabad
Applications close on 15th January 2019. Early applications encouraged. Seats fill up soon!

Domain Expertise
SmartBrains has extensive end-to-end learning and content delivery capabilities across the areas of Design Engineering, Process Engineering, Industrial Automation, Instrumentation Engineering, Equipment design & sizing, Civil & Structural design engineering, Finance, Operations, Treasury, Technology, Business Analysis and Software Development in various business use cases.The methodology offers real-life challenges, compelling learners to apply concepts in the class and prepare for career realities.
Internship Certification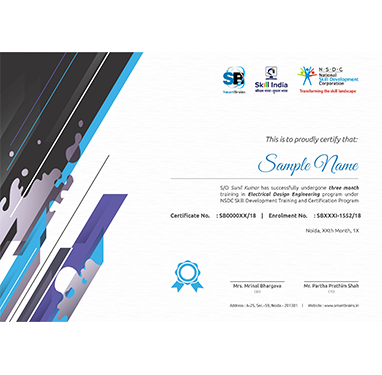 Upon successful completion of the program, participants will be awarded a verified Certificate by SmartBrains Engineers Technologist Pvt. Ltd. Noida, in collaboration with Various Sector Skill Councils of Govt. of India & NSDC.
Customized Learning
SmartBrains believes in continuous learning to develop skill sets and we firmly believe 'One size does not fit all'. To cater to the immense diversity of our student profile, each course is customized to ensure that it is not only relevant to the careers our students aspire to but also to their individual learning requirements. In fact, it is the vast diversity of experiences brought by our students that makes this internship at SmartBrains a unique experience.
Have you recently graduated?
All our programs start with the basics and require no catching up – making them suitable even for those who have no prior domain knowledge. Our learning material is simple yet succinct and through our experiential learning pedagogy, we ensure that your learning is comprehensive. We also offer additional refreshers and doubt clearing sessions with the faculty to ensure that no students are left behind.
Do you have work experience?
While our initial levels might start with the basics, we ensure that all our students are stimulated by our real life case studies,project work and self-assessments which you will be able to relate to on the back of your work experience. Most students use this time to strengthen their concepts and test their understanding through application. Our Domain experts will help you stretch your abilities by creating advanced problems and simulations.
Pedagogy
Our Interns can expect a mix of case studies, analytical& various design tools, and the hallmark pedagogy of learning through a plethora of hands-on and real-life scenarios. Finishing the internship with our state-of-the-art Capstone project helps the participants to season their skills as a ready to deploy professional; thus, making them ready for the job role.
Do you want to switch careers?
Perhaps you have decided to do something completely different after ten years of working or want to learn a new skill. Our experiential learning will not have you copying down answers but will have you exploring a new field through project work, lively discussions, and rigorous self-assessments. Our extensive use of multimedia will expand your scope of knowledge while you use the opportunity to hone your skills in Design engineering, Business Analysis, Digital Marketing, Engineering Drawing & Documentations, Renewable Energy, Power Plant Design, Process Engineering and software development programs.
LEARNING BASED OUTCOMES
Get hands-on experience in applying design tools & techniques to real engineering problems and understand Design, Engineering, Construction, O & M etc. Thus, become a Technology Driven Engineering Professional.
TRAINER
Delivered by Senior Industry Professionals having extensive experience of Design & Engineering in diverse domains & industries. These practitioners are also Empanelled as subject matter experts with SmartBrains Engineers & Technologist Pvt. Ltd.
Content
Get 24 x 7 access to SmartBrains LMS platform (Online/Offline) with Abundant Content on Engineering including Courseware (PPT / PDF), data, case studies, articles, books, videos, examples, presentations, resource library & related more.
For Corporate queries
A-25, Sector-59, Noida (UP),India
Pin Code-201301
Connect with Program Advisor
internship@smartbrains.com
+91 9860626494 | +91 9891108700
Nodal Centers
Noida, Hyderabad, Dehradun
Guwahati, Vadodara, Pune