HAZOPS for ENGINEERS & TECHNICIANS (5 Days Workshop)
About the Program
The objective of this course is to provide the candidates the Detail knowledge and skills in hazard and operability discipline to facilitate faster learning curves while on the job.
This module provides the techniques of hazard and operability studies that are widely used in industry for the identification of potential hazards in process plant operations. In recent years HAZOP methods have been extended to searching for hazards in operational procedures and in many other fields including electronic controls and emergency planning procedures. HAZOP can be adapted to a wide range of applications to seek out operational failure modes and possible harm to persons, environment or assets.
Learning objective
An Introduction to the Principles of Hazop
Discuss the life cycle model of Hazop
Explain the HAZOP Examination PHASE
Fundamental and reduction of risk in Hazop
Details about the Hazard Studies levels
Hazard Identification and Risk Management
Explain the format of Hazop report and closeout requirements
Detail information about the Safety Requirements

Mode / Duration
Weekend- 5 Days
Online-5 Days
Learning-Based Outcomes
Get hands-on experience in applying design tools & techniques to real engineering problems and understand Design, Engineering, Construction, O & M, etc. Thus, become a Technology Driven Engineering Professional.
Trainer
Delivered by Senior Industry Professionals having extensive experience in Design & Engineering in diverse domains & industries. These practitioners are also Empanelled as subject matter experts with SmartBrains Engineers & Technologist Pvt. Ltd.
Content
Get 24 x 7 access to SmartBrains LMS platform (Online/Offline) with Abundant Content on Process Engineering including Courseware (PPT / PDF), data, case studies, articles, books, videos, examples, presentations, resource library & related more.
Job Oriented Outcomes
Fill the Void of Talent Shortage in Design Engineering by becoming eligible for thousands of High Paying Jobs in India & Abroad with an upgraded profile through this skill & certification. Additionally, Get Promoted from your current position with the added skill set.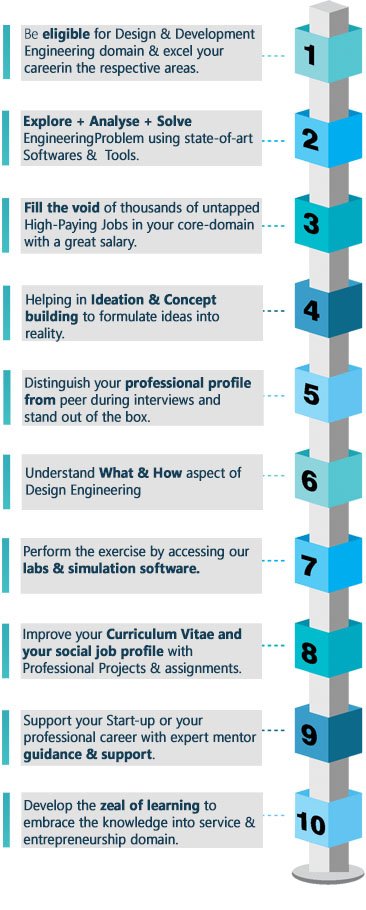 Introduction to the Principles of Hazop

What is A HAZOP?
The need for HAZOP
The how, when and why outline of Hazard and Operability Studies      (HAZOPS)
Hazard studies and regulations
The six-level life cycle model
Typical HAZOP workshop

THE HAZOP Examination PHASE

Defining the arts for study
Generating deviations with guidewords
Worked examples of process HAZOP for continuous plant
Procedural HAZOP for sequential operations and batch processes

Planning and   Leadership of Hazop Workshops

Fundamentals of risk assessment and the risk matrix
Risk reduction and layers of protection
The role of safety instrumented systems and determination of SIL targets
Hazard analysis methods of FMEA, FTA, and LOPA

Hazard Studies

Hazard and operability study (Hazop) methods
Hazard study levels 1, 2 and 3
Hazops for control Practical industrial safety, risk assessment and shutdown systems For industry stems

Hazard Identification and Risk Management

Introduction to "risk ranking"
Risk acceptability and risk matrices
Project risk versus long term operational risk
Syndicate example 3 (risk ranking)
Syndicate example 3 – lessons learned
Test understanding of risk ranking
HAZOP and human risk factors

Quality Hazop Reports And Action Files

HAZOP report format
Closeout requirements
Follow-up action file
COST CONSIDERATIONS
HAZOP costs and incident costs
Cost-effectiveness of remedial measures
Safety Requirements Specification

How to define functional requirements for the safety instrumented system
Input requirements from the Hazop
Safety functional requirements
Safety integrity requirements
Deciding the   required          Safety  Integrity          Levels (SILs):
SmartBrains is associated with The National Skill Development Corporation (NSDC) as the Training and Certification partner for various job oriented training programs across various sectors including Oil & Gas, Power, Renewable Energy, Hydrocarbon, IT & ITs, Electronics, Telecom, Agriculture, Life science etc. offering assessment based Training & certifications for a gamut of job profile.
Who should join?
Working professionals in Domains: Site Engineering, .Construction & Commissioning operation & .Maintenance, Technicians in Process Engineering Field.
Students (Chemical Engineering, Diploma in Chemical .Engineering) who want to develop their career in Design Engineering.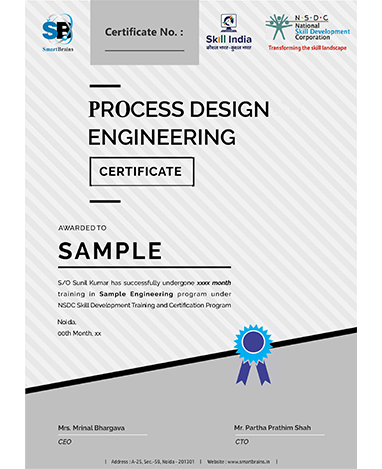 For Corporate queries
A-25, Sector-59, Noida (UP),India
Pin Code-201301
Connect with Program Advisor
training@smartbrains.com
+91 8955560560 | +91 9891108700
www.smartbrains.com
Nodal Centers
Noida, Dehradun
Guwahati, Pune
Course Features
Lectures

0

Training Mode

Online|Classroom

Duration

24 hours

Certification

Yes (NSDC)

Students

0

Assessment

Yes (Third Party)
Get In Touch With Us
[contact-form-7 404 "Not Found"]
Click for brochure :