Process Design Engineering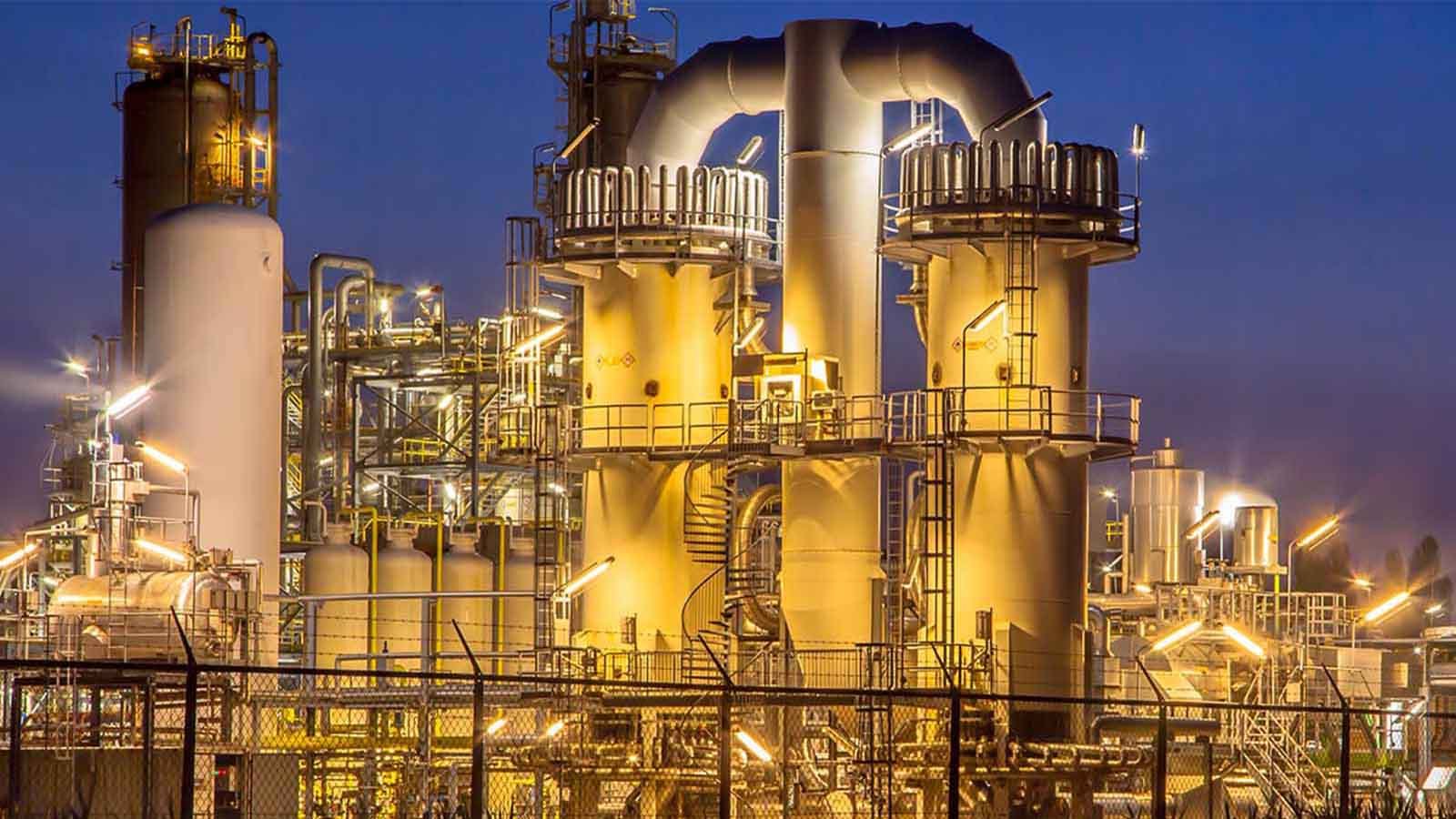 About the Program
The objective of this course is to provide the candidates the Detail knowledge and skills in Process Design discipline to facilitate faster learning curves while on the job.
This course designed to provide basic knowledge and skills in this discipline of Process Engineering for Oil & Gas sector. This course will cover the fundamental principles and concepts used in process plant layout and process design & Detailing. Upon completion of this course, students will have a clear understanding of the design principles used in Process System Design for Oil & Gas Energy Sector.
This course is to provide delegates the Detail knowledge and skills into Design, Engineering, Construction, Commissioning operation & Maintenance in the field of Process Engineering for Oil & Energy Sector.
Learning objective
Overview of Industry and role of a Process Engineer in various fields
Basic design requirements based on the types of plants / projects
Overview of Basic Engineering Package
Introduction to PFD, P&ID and PDS, Equipment list, line list
Basic design requirements based on the types of plants / projects.
Development of PFD, PFD specification,
Development of P&ID,
Relevant Codes and Standards used in industry
Development of PFD: Process & Utility
Mass and Energy balance – Design Basis, Sample Calculations and Utility Sizing
Control Philosophy, Valves Selection and sizing, Safety valves sizing
Development of P&ID: Process and Utility,
Line Sizing & Pressure Drop Calculations
Hydraulic calculations
Pump Selection and sizing
Heat Exchanges Design (Thermal Design)
Distillation Column Design
Process Data Sheets Preparations
Preparations of Major Process Documents
Various Process Simulations
Available Software used in industry and their applications.

Mode / Duration
Weekend- 2 Months
Online- 3 Months
Learning-Based Outcomes
Get hands-on experience in applying design tools & techniques to real engineering problems and understand Design, Engineering, Construction, O & M, etc. Thus, become a Technology Driven Engineering Professional.
Trainer
Delivered by Senior Industry Professionals having extensive experience in Design & Engineering in diverse domains & industries. These practitioners are also Empanelled as subject matter experts with SmartBrains Engineers & Technologist Pvt. Ltd.
Content
Get 24 x 7 access to SmartBrains LMS platform (Online/Offline) with Abundant Content on Process Engineering including Courseware (PPT / PDF), data, case studies, articles, books, videos, examples, presentations, resource library & related more.
Job Oriented Outcomes
Fill the Void of Talent Shortage in Design Engineering by becoming eligible for thousands of High Paying Jobs in India & Abroad with an upgraded profile through this skill & certification. Additionally, Get Promoted from your current position with the added skill set.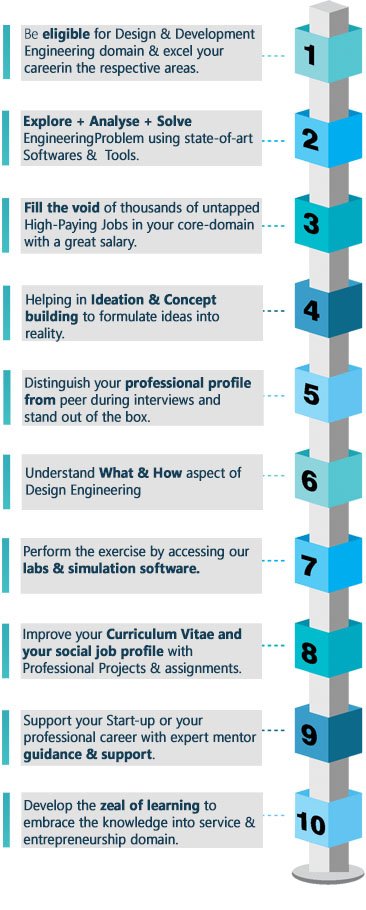 Introduction to Oil and Gas Industry & EPC Contracts

General Industry overview and basic concepts
Oil and gas prospecting(exploration)
Oil and gas production facilities
What is an EPC CONTRACT?
The tender & procurement process

Introduction to Process Engineering

Process Engineering
Refining Overview
Hydrocarbon Process Examples
Typical Refinery Block Diagram
Typical Refinery Processes
Process Engineering
Nature of Design
Process Engineering Applications
Process Equipment
Resources/Tools
Process Work Flow
Engineering Flow Diagrams- Block Flow Diagram, PFD, P&ID, Process Control Diagram, System Distribution Diagram, Plot Plan and Elevation Drawings

Process Sizing Calculations for Plant Design

Line Sizing (Single Phase)
Line Sizing (Two-Phase)
Centrifugal Pump Hydraulics

Process Equipment Sizing Calculations for Plant Design

Shell & Tube Heat Exchanger
Packed Columns
Tray Columns
Gas-Liquid (Two-Phase) Separators
Liquid-Liquid (Two-Phase) Separators
Process Data Sheets Preparation

Static Equipment
Utility Packages

Equipment for Process Designing

Fluid Flow and Heat Transfer– Fluid Flow in Piping, Line Sizing Criteria, Heat Transfer and Radiation
Pumps and Pumping Systems
– Types of Pumps- Performance                               Characteristics Curves, System Hydraulics,       Affinity Laws, Capacity, Turndown, Sparing
– Key Design Parameters, Capacity factors,          Properties, Head, NPSH, Horsepower
Compressors
– Compressor Categories and Types
– Compression Process
– Adiabatic, Isothermal, Polytropic
– Compressor Characteristics Performance,         Terminology, System Curves
– Requirements, Affinity Laws
Control Valves
– Flow Characteristics
– Vortices, Separation
– The pressure to Flow Relationships
– Choked Flow Conditions (Critical Flow)
– Cavitation and Flashing
Process Vessels
– Mechanical Design
– Simple Calculations
– Types and Functions
– Reactors
Heat Exchangers
– Basic Principles of Heat Exchanger Design

Preparation of Major Process Documents

Process Design Basis
Fluid List
Line List/Tie-in-point List
Equipment List with Short Specification
Catalyst & Chemicals Summary
Utility Consumption Summary
Flare Load Summary
Effluent Summary

Process Simulation

Butane, LPC column simulation
Light Neptha, CO2 Absorber
Striper Design Hook-ups/isometric diagram
SmartBrains is associated with The National Skill Development Corporation (NSDC) as the Training and Certification partner for various job oriented training programs across various sectors including Oil & Gas, Power, Renewable Energy, Hydrocarbon, IT & ITs, Electronics, Telecom, Agriculture, Life science etc. offering assessment based Training & certifications for a gamut of job profile.
Who should join?
Working professionals in Domains: Site Engineering, .Construction & Commissioning operation & .Maintenance, Technicians in Process Engineering Field.
Students (Chemical Engineering, Diploma in Chemical .Engineering) who want to develop their career in Design Engineering.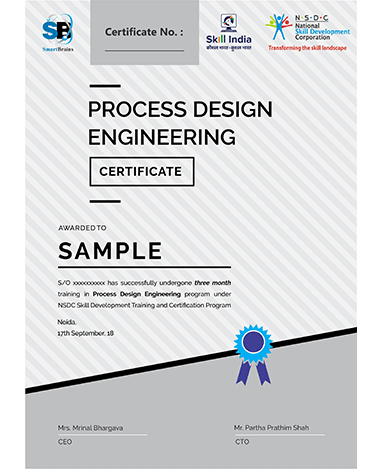 For Corporate queries
A-25, Sector-59, Noida (UP),India
Pin Code-201301
Connect with Program Advisor
training@smartbrains.com
+91 9891108002 | +91 9891108700
www.smartbrains.com
Nodal Centers
Noida, Dehradun
Guwahati, Pune
Course Features
Lectures

0

Training Mode

Online|Classroom

Duration

70 hours

Certification

Yes (NSDC)

Students

0

Assessment

Yes (Third Party)
Get In Touch With Us
[contact-form-7 404 "Not Found"]
Click for brochure :