An Overview of OSHA's Process Safety Management Standard (2 Days Workshop)
About the Program
The objective of this Workshop is to provide the candidates the Detail knowledge of OSHA's Process Safety Management Standard to facilitates faster learning curves while on the job.
The major objective of process safety management (PSM) of highly hazardous chemicals is to prevent unwanted releases of hazardous chemicals especially into locations that could expose employees and others to serious hazards. An effective process safety management program requires a systematic approach to evaluating the whole chemical process. Using this approach, the process design, process technology, process changes, operational and maintenance activities and procedures, non-routine activities and procedures, emergency preparedness plans and procedures, training programs, and other elements that affect the process are all considered in the evaluation.
Learning objective
Have an understanding of the applicability of OSHA's Process Safety Management (PSM) standard
Have a basic knowledge of the requirements of the PSM standard
Discuss several of the more common process hazard analyses
Identify the necessary requirements to organize management of change (MOC) to control hazards
Contrast mechanical integrity vs. reliability
Evaluate an incident investigation to share its lessons with others
Interpret a Layer of Protection Analysis (LOPA)

Mode / Duration
Learning-Based Outcomes
Get hands-on experience in applying design tools & techniques to real engineering problems and understand Design, Engineering, Construction, O & M, etc. Thus, become a Technology Driven Engineering Professional.
Trainer
Delivered by Senior Industry Professionals having extensive experience in Design & Engineering in diverse domains & industries. These practitioners are also Empanelled as subject matter experts with SmartBrains Engineers & Technologist Pvt. Ltd.
Content
Get 24 x 7 access to SmartBrains LMS platform (Online/Offline) with Abundant Content on Process Engineering including Courseware (PPT / PDF), data, case studies, articles, books, videos, examples, presentations, resource library & related more.
Job Oriented Outcomes
Fill the Void of Talent Shortage in Design Engineering by becoming eligible for thousands of High Paying Jobs in India & Abroad with an upgraded profile through this skill & certification. Additionally, Get Promoted from your current position with the added skill set.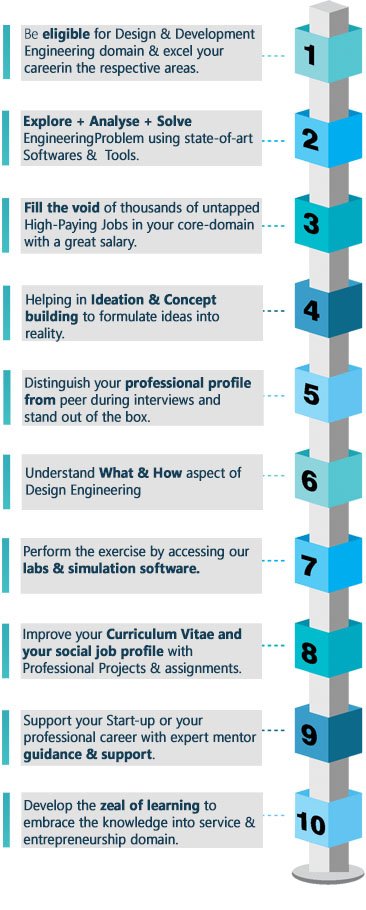 Background
Applicability
Requirements for Applicable Processes
Employee Participation
Process Safety Information
Process Hazards Analysis
Operating Procedures
Training
Contractors
Pre-Startup Safety Review
Mechanical Integrity
Hot Work Permit
Management of Change
Incident Investigation
Emergency Planning and Response
Compliance Audits
Trade Secrets
SmartBrains is associated with The National Skill Development Corporation (NSDC) as the Training and Certification partner for various job oriented training programs across various sectors including Oil & Gas, Power, Renewable Energy, Hydrocarbon, IT & ITs, Electronics, Telecom, Agriculture, Life science, etc. offering assessment based Training & certifications for a gamut of job profile.
Who should join?
Working professionals in Domains: Site Engineering, Construction & Commissioning operation & Maintenance, Technicians in Process Engineering Health, Environment & Safety.
Students ( Engineering & Diploma ) who want to develop their career in Engineering.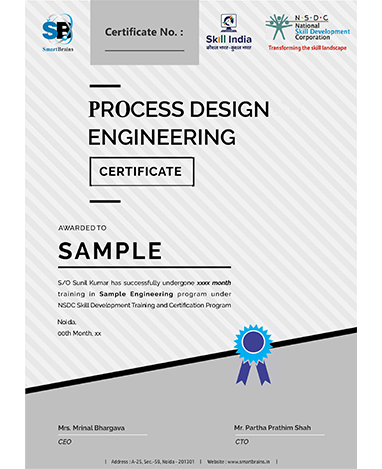 For Corporate queries
A-25, Sector-59, Noida (UP),India
Pin Code-201301
Connect with Program Advisor
training@smartbrains.com
+91 8955560560 | +91 9891108700
www.smartbrains.com
Nodal Centers
Noida, Dehradun
Guwahati, Pune
Course Features
Lectures

0

Training Mode

Online|Classroom

Duration

12 hours

Certification

Yes (NSDC)

Students

0

Assessment

Yes (Third Party)
Get In Touch With Us
[contact-form-7 404 "Not Found"]
Click for brochure :