Civil & Structural Design Engineering
About the Program
The objective of this course is to provide the candidates the Detail knowledge and skills in Civil & Structural Design discipline to facilitate faster learning curves while on the job.
In this course trainee will gain advanced knowledge of civil and structural engineering that includes the principles of analysis of structures and their application, the behaviour of materials under loading, the selection of construction materials, and the design fundamentals for Reinforced Cement Concrete (RCC) and steel structures, latest civil engineering technologies, drawing, 2D and 3D CAD design, building materials, civil and structural sub-disciplines (roads, steel, concrete, pavement, drainage, soil, water supply, sewerage), construction sites and engineering management.
Learning objective
Overview of Industry and the role of civil and structural engineers in various fields.
Basic design requirements based on the types of plants / projects
Relevant Codes and Standards used in industry
Concrete Structure Design with relevant codes & standards.
Steel structure design with relevant codes & standards.
Equipment supporting structures and foundations.
Pipe Racks and Sleepers.
General Civil Works – Roads, Drains, CRWS (Contaminated Rain Water Sewer),
OWS (Oily Water Sewer), Paving, Dyke wall, Tank Farm Area, Boundary wall, fence, gate, Local support and platforms.
Special Facilities – Cooling Tower, Flare Stack, Chimney.
Construction Detailing & Drawings.
Computer Aided Analysis and Design.
3D Modeling

Mode / Duration
Weekend- 2 Months
Online- 3 Months
Learning-Based Outcomes
Get hands-on experience in applying design tools & techniques to real engineering problems and understand Design, Engineering, Construction, O & M, etc. Thus, become a Technology Driven Engineering Professional.
Trainer
Delivered by Senior Industry Professionals having extensive experience in Design & Engineering in diverse domains & industries. These practitioners are also Empanelled as subject matter experts with SmartBrains Engineers & Technologist Pvt. Ltd.
Content
Get 24 x 7 access to SmartBrains LMS platform (Online/Offline) with Abundant Content on Process Engineering including Courseware (PPT / PDF), data, case studies, articles, books, videos, examples, presentations, resource library & related more.
Job Oriented Outcomes
Fill the Void of Talent Shortage in Design Engineering by becoming eligible for thousands of High Paying Jobs in India & Abroad with an upgraded profile through this skill & certification. Additionally, Get Promoted from your current position with the added skill set.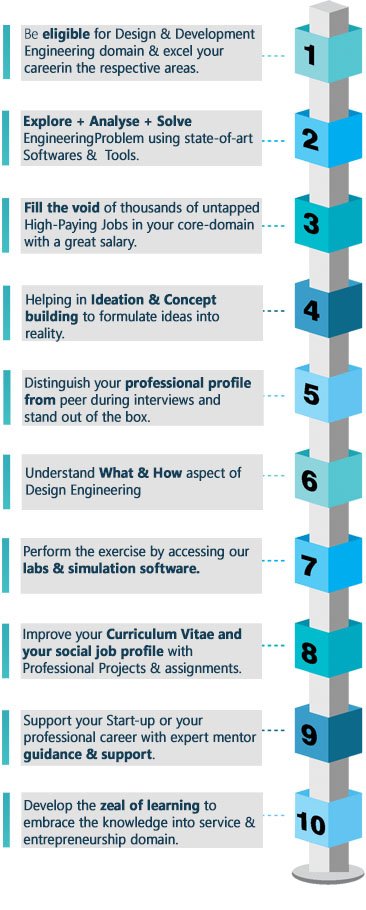 Basics of Civil and Structural Design Engineering

construction principles to civil engineering works
Design of RCC Beams, Columns and Slabs
Steel Beam & Column Design
Base Plate Design
Connection Design
Overhead Tank Design
Concrete Chimneys
Portal Frames and Bracing Design
Storm Water Drains
Soil Mechanics
Footing Raft Design
Pile Foundations
Equipment Foundation Under Vibrating Type
drainage design of pipes and culverts
design for a sewerage reticulation scheme
Building materials
Roads, steel, concrete, pavement, drainage, soil, water supply, sewerage

DESIGN THEORIES AND LOADS

Stress-strain relationship for different materials
Design philosophies
Combination of loads
Theories of failure

DESIGN OF STEEL STRUCTURES

Properties of structural steel
Steel structural sections
Design of steel structures
Joints and fasteners for steel structures
Design of tension members
Design of compression members
Design of beams
Design of truss and allied structures

DESIGN OF RCC STRUCTURES

Properties of concrete
Principle of reinforced concrete design
Design norms for reinforced concrete beams
Design of reinforced concrete slabs
Design of reinforced concrete foundations
Design of axially loaded columns
Pre-stressed concrete
Multi-storied buildings

2D and 3D CAD design

Use (CAD) system to produce basic engineering drawings
Engineering drawings for a reinforced concrete structure
Engineering drawings for a steel structure
Drawings for road construction
Engineering drawings for a storm water reticulation scheme
Create Project, Model & Drawing File
Copy, Delete & Open Model
Frame Work Plus Manager
Attach & Detach Model
Preference Editor, Section Library
Compress Frame Work Plus Database
Verify Model
Select Filter Setting
Member Attributes, Orientation
Create, Set, List, Drop, Modify View
Freeze View & Update Frozen, Regenerate
Place Linear Members
Place 3D Solids
Modify, Manipulate, Cutbacks
Linear Material Report
Review & Locate Elements
Create User Section Table

3D Structural Design

Coordinate Systems
Methods of Model Creation
Joint Coordinates Specification
Member, Element Incidences Specification
Member, Element Property Specification
Working with Members, Splitting Members
Importing and Exporting Structure
Working with Slabs, Cutting Openings
Managing Equipment Foundations
Sketching in 3-D
SmartBrains is associated with The National Skill Development Corporation (NSDC) as the Training and Certification partner for various job oriented training programs across various sectors including Oil & Gas, Power, Renewable Energy, Hydrocarbon, IT & ITs, Electronics, Telecom, Agriculture, Life science etc. offering assessment based Training & certifications for a gamut of job profile.
Who should join?
Working professionals in Domains: Site Engineering, .Construction & Commissioning operation & .Maintenance, Technicians in Process Engineering Field.
Students (Chemical Engineering, Diploma in Chemical .Engineering) who want to develop their career in Design Engineering.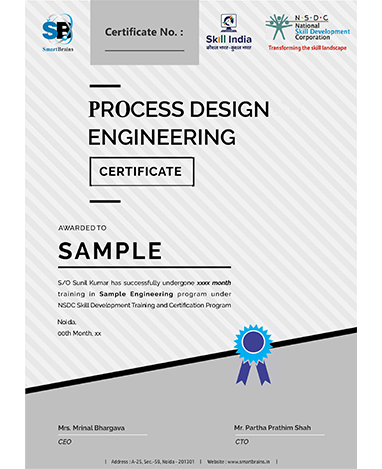 For Corporate queries
A-25, Sector-59, Noida (UP),India
Pin Code-201301
Connect with Program Advisor
training@smartbrains.com
+91 8955560560 | +91 9891108700
www.smartbrains.com
Nodal Centers
Noida, Dehradun
Guwahati, Pune
Course Features
Lectures

0

Training Mode

Online|Classroom

Duration

2/6 Months

Certification

Yes (NSDC)

Students

0

Assessment

Yes (Third Party)
Get In Touch With Us
[contact-form-7 404 "Not Found"]
Click for brochure :