ELECTRICAL POWER CABLES & WIRING STANDARDS (2 Days Workshop)
About the Program
The objective of this course is to provide the candidates the Detail knowledge Electrical Power Cabel & Wiring Standards to facilitate faster learning curves while on the job.
The objective of this course is to provide knowledge of electrical power cables and wiring standards to engineer and technician. This course will cover the fundamental principles and concepts used in electrical power cables designing, manufacturing, installation & standards. After completion of this course, Engineer & technician will have a clear knowledge of electrical power cable designing & standards.
Learning objective
Role of power cables in the electrical system
Fundamentals concepts of electrical power cables & wiring standards
Cables and accessories of the electrical system
Designing and construction of power cables
Selection of power cables in the electrical system
Electrical power cable failures
The basic principle of safety measures parameters
Information about cable protection and cable testing

Mode / Duration
Learning-Based Outcomes
Get hands-on experience in applying design tools & techniques to real engineering problems and understand Design, Engineering, Construction, O & M, etc. Thus, become a Technology Driven Engineering Professional.
Trainer
Delivered by Senior Industry Professionals having extensive experience in Design & Engineering in diverse domains & industries. These practitioners are also Empanelled as subject matter experts with SmartBrains Engineers & Technologist Pvt. Ltd.
Content
Get 24 x 7 access to SmartBrains LMS platform (Online/Offline) with Abundant Content on Process Engineering including Courseware (PPT / PDF), data, case studies, articles, books, videos, examples, presentations, resource library & related more.
Job Oriented Outcomes
Fill the Void of Talent Shortage in Design Engineering by becoming eligible for thousands of High Paying Jobs in India & Abroad with an upgraded profile through this skill & certification. Additionally, Get Promoted from your current position with the added skill set.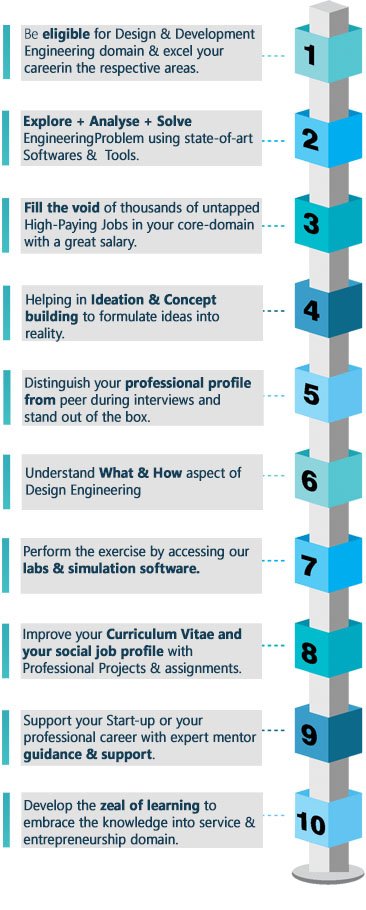 INTRODUCTION

Role of power cables in electrical systems
Main issues in ensuring trouble-free operation of cabling in power distribution
Earthing and its importance
Various functions of earthing in electrical installations

CABLES AND ACCESSORIES

Low and high voltage cables
Advantages over overhead transmission lines
Disadvantages of cables in power transmission
Various types of cables
Cable jointing (splicing) accessories
Need for termination kits
Installation of cables

CONSTRUCTION OF CABLES

Basic constructional aspects
Insulation
Application areas
Cable standards

SELECTION AND INSTALLATION OF CABLES

Selection criteria
Sizing
Installation
Special locations
Fire prevention and fire protection for cable installations

CABLE FAILURES

Types of failures
Reasons for failures
Fault location
Electrical tests for detection of cable faults
Safety issues in fault location
Analysis of failures
Documentation of work and failures

INTRODUCTION TO REGULATIONS

Structure of international and national wiring regulations
Foundation electrical principles and terminology
Scope of regulations
Requirements for safety

PROTECTION FOR SAFETY

Shock
Basic and fault protection
Effects of shock on the human body and livestock (IEC 60479)
Electrical hazards
Calculation of disconnection times
Voltage disturbances and protection against overvoltage
Operating gangways
Measures against electromagnetic disturbances

CABLE PROTECTION

Over-current
Selecting protective devices
Calculation of adiabatic heating effect
Effect of harmonic currents – thermal effects
Parallel cables

INSPECTION AND TESTING

Test Instruments
Certification including reference to new documentation
SmartBrains is associated with The National Skill Development Corporation (NSDC) as the Training and Certification partner for various job oriented training programs across various sectors including Oil & Gas, Power, Renewable Energy, Hydrocarbon, IT & ITs, Electronics, Telecom, Agriculture, Life science, etc. offering assessment based Training & certifications for a gamut of job profile.
Who should join?
Working professionals in Domains: Site Engineering, Construction & Commissioning operation & Maintenance, Technicians in Electrical Engineering Field.
Students (Electrical Engineering, Diploma in Electrical Engineering) who want to develop their career in Design Engineering.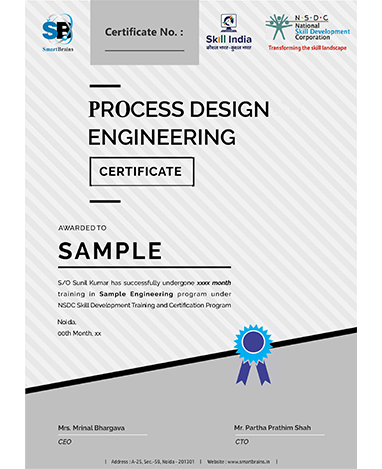 For Corporate queries
A-25, Sector-59, Noida (UP),India
Pin Code-201301
Connect with Program Advisor
training@smartbrains.com
+91 8955560560 | +91 9891108700
www.smartbrains.com
Nodal Centers
Noida, Dehradun
Guwahati, Pune
Course Features
Lectures

0

Training Mode

Online|Classroom

Duration

12 hours

Certification

Yes (NSDC)

Students

0

Assessment

Yes (Third Party)
Get In Touch With Us
[contact-form-7 404 "Not Found"]
Click for brochure :