Getting started with Augmented Reality
About the Program
The objective of this course is to provide the candidates the Detail knowledge and skills in Introduction to Augmented Reality to facilitate faster learning curves while on the job.
This course will teach you the basics of developing mobile applications using Mixed and Augmented Reality (MAR) technologies.
Through hands-on projects, you'll learn practical techniques to rapidly and easily prototype three different applications for Android smartphones and tablets – even with no previous coding experience.
If you're a creative entrepreneur, this is your ideal introduction to today's trends in the products and technologies of the emerging augmented reality market.
If you're a web designer or app developer, you'll gain a range of technological building blocks that you can integrate into your service portfolio.
Whatever your background, you'll learn how to design cutting-edge visual experiences that will enhance your job prospects.
Learning objective
All about the main MAR products and technologies on the market today
How to build three different augmented reality applications using an augmented reality browser and authoring tools
How to include image recognition and object tracking
How to use geolocation functionality for outdoor augmented reality

Mode / Duration
Learning-Based Outcomes
Get hands-on experience in applying design tools & techniques to real engineering problems and understand Design, Engineering, Construction, O & M, etc. Thus, become a Technology Driven Engineering Professional.
Trainer
Delivered by Senior Industry Professionals having extensive experience in Design & Engineering in diverse domains & industries. These practitioners are also Empanelled as subject matter experts with SmartBrains Engineers & Technologist Pvt. Ltd.
Content
Get 24 x 7 access to SmartBrains LMS platform (Online/Offline) with Abundant Content on Process Engineering including Courseware (PPT / PDF), data, case studies, articles, books, videos, examples, presentations, resource library & related more.
Job Oriented Outcomes
Fill the Void of Talent Shortage in Design Engineering by becoming eligible for thousands of High Paying Jobs in India & Abroad with an upgraded profile through this skill & certification. Additionally, Get Promoted from your current position with the added skill set.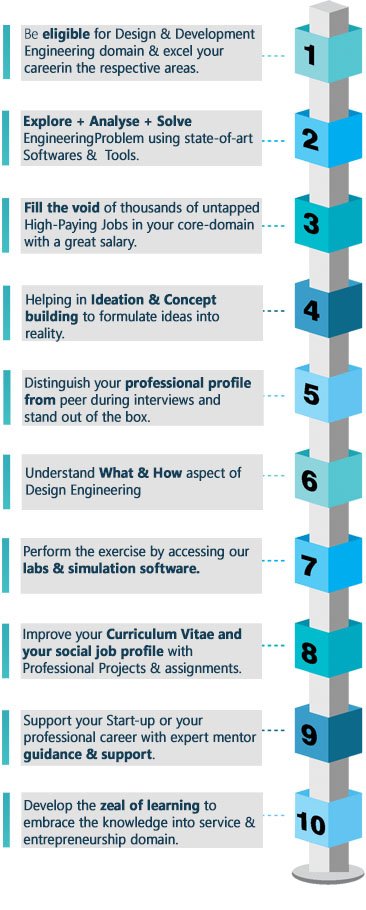 Introducing Mixed and Augmented Reality

Definition of Mixed and Augmented Reality
Mixed Reality Continuum
MAR Market, Actors and Value Chain
Application vs. Browser
MAR System Architecture

Augmented Books

Create an Augmented Book using an authoring tool
An Augmented Book example
Download and install the ARAF browser
Let's take it a step further
Augmented Book – Inside the ARAF file
Image recognition process
Modifying the AR experience: replace a sound with a video
Augment Your City Map

Introduction
3D objects in ARAF
What is Vuforia?
Recognition process with Vuforia

Augmented Reality with Geolocation

Create an AR Quiz using the authoring tool
An AR Quiz example
Geolocation in ARAF
What is a prototype? A basic example: Image PROTO
Enriching a prototype: add user interaction
Map PROTO Step-by-Step
MapMarker PROTO Step-by-Step
MapOverlay PROTO Step-by-Step
MapPlayer PROTO Step-by-Step
SmartBrains is associated with The National Skill Development Corporation (NSDC) as the Training and Certification partner for various job oriented training programs across various sectors including Oil & Gas, Power, Renewable Energy, Hydrocarbon, IT & ITs, Electronics, Telecom, Agriculture, Life science etc. offering assessment based Training & certifications for a gamut of job profile.
Who should join?
Working professionals in Domains: Any Graduate & Diploma who has passion for learning & Creativity.
Graphic Designer.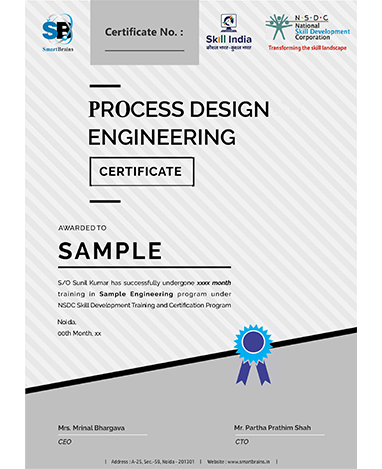 For Corporate queries
A-25, Sector-59, Noida (UP),India
Pin Code-201301
Connect with Program Advisor
training@smartbrains.com
+91 8955560560 | +91 9891108700
www.smartbrains.com
Nodal Centers
Noida, Dehradun
Guwahati, Pune
Course Features
Lectures

0

Training Mode

Online|Classroom

Duration

50 hours

Certification

Yes (NSDC)

Students

0

Assessment

Yes (Third Party)
Get In Touch With Us
[contact-form-7 404 "Not Found"]
Click for brochure :