HVAC Design for Oil & Gas Facilities (5 Days Workshop)
About the Program
The objective of this Workshop is to provide the candidates the Detail knowledge of HVAC Design for Oil & Gas Facilities to facilitates faster learning curves while on the job.
This course discusses the complexities of HVAC design for offshore oil and gas installations and how to go about carrying out the selection of a proper system and related equipment. HVAC design for such facilities needs special considerations not only to minimize the potential loss to capital investment due to fire, explosion, and corrosion but also to isolate the personnel from a life-threatening environment.
Learning objective
Be aware of the critical design issues related to oil & gas facilities;
Understand how an offshore installation different from an onshore installation;
Learn the relevant codes and standards as applicable to the HVAC design;
Understand the concept of area classification for hazardous locations;
Understand the importance of pressure differential between hazardous and non-hazardous areas;
Understand the critical system parameters that must be controlled and monitored;
Understand the importance of dilution ventilation to mitigate the impacts of accidental releases of flammable and toxic gases;
Understand the concepts of air cleaning and filtration requirements;
Understand the requirements of blast-proof intake and exhaust valves in line with structural requirements;
Understand the specifications of HVAC equipment and machinery suitable for saline corrosive atmosphere;
Understand the specifications of electrical equipment for oil & gas installations; and
Understand the importance of commissioning and documentation.

Mode / Duration
Learning-Based Outcomes
Get hands-on experience in applying design tools & techniques to real engineering problems and understand Design, Engineering, Construction, O & M, etc. Thus, become a Technology Driven Engineering Professional.
Trainer
Delivered by Senior Industry Professionals having extensive experience in Design & Engineering in diverse domains & industries. These practitioners are also Empanelled as subject matter experts with SmartBrains Engineers & Technologist Pvt. Ltd.
Content
Get 24 x 7 access to SmartBrains LMS platform (Online/Offline) with Abundant Content on Process Engineering including Courseware (PPT / PDF), data, case studies, articles, books, videos, examples, presentations, resource library & related more.
Job Oriented Outcomes
Fill the Void of Talent Shortage in Design Engineering by becoming eligible for thousands of High Paying Jobs in India & Abroad with an upgraded profile through this skill & certification. Additionally, Get Promoted from your current position with the added skill set.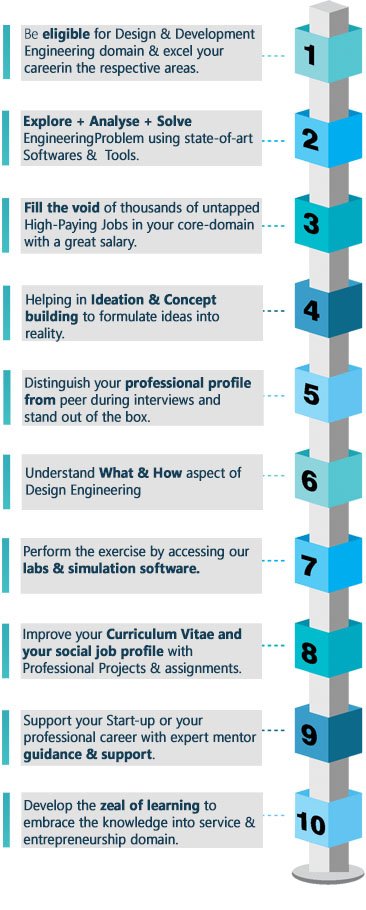 Design Objectives
Operation Objectives
What's So Special For Offshore Installation: Safety Considerations
Space Constraints
Constructional Features
Engineering Documentation What Can HVAC Do?
What Is Expected From An HVAC Designer?
HVAC Design Concepts
System Layout
HVAC Equipment And Machinery
Electrical Installation
Commissioning
Documentation
Compressors
SmartBrains is associated with The National Skill Development Corporation (NSDC) as the Training and Certification partner for various job oriented training programs across various sectors including Oil & Gas, Power, Renewable Energy, Hydrocarbon, IT & ITs, Electronics, Telecom, Agriculture, Life science, etc. offering assessment based Training & certifications for a gamut of job profile.
Who should join?
Working professionals in Domains: Site Engineering, Construction & Commissioning operation & Maintenance, Technicians in Mechanical Engineering Field.
Students (Mechanical Engineering, Diploma in Mechanical Engineering) who want to develop their career in Design Engineering.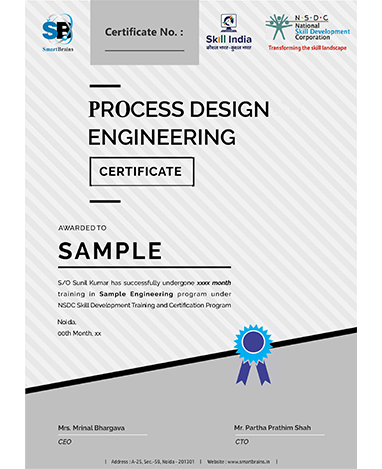 For Corporate queries
A-25, Sector-59, Noida (UP),India
Pin Code-201301
Connect with Program Advisor
training@smartbrains.com
+91 8955560560 | +91 9891108700
www.smartbrains.com
Nodal Centers
Noida, Dehradun
Guwahati, Pune
Course Features
Lectures

0

Training Mode

Online|Classroom

Duration

24 hours

Certification

Yes (NSDC)

Students

0

Assessment

Yes (Third Party)
Get In Touch With Us
[contact-form-7 404 "Not Found"]
Click for brochure :