Introduction to XR: VR, AR, and MR Foundations
About the Program
What is XR? It's shorthand for a related set of new technologies that are changing the way we interact with the world and with each other: Virtual Reality, Augmented Reality, and Mixed Reality.
In this course, we will present an introduction to XR using a broadly chronological approach, focusing on how all of the underlying technologies came together at key moments in the history of XR to launch the concepts of Virtual Reality and Augmented Reality into the mainstream consciousness. Throughout the course, we'll give a brief description of each of the supporting technologies, some history about when it first came into use, limitations and future potential for improvement, and how it's used for AR, VR, and MR.
Learning objective
How Google Cardboard Brought VR to the Masses
The VR Platform Landscape
What's the Difference Between MR and VR?
Safety Concerns in AR
The Future of XR

Mode / Duration
Learning-Based Outcomes
Get hands-on experience in applying design tools & techniques to real engineering problems and understand Design, Engineering, Construction, O & M, etc. Thus, become a Technology Driven Engineering Professional.
Trainer
Delivered by Senior Industry Professionals having extensive experience in Design & Engineering in diverse domains & industries. These practitioners are also Empanelled as subject matter experts with SmartBrains Engineers & Technologist Pvt. Ltd.
Content
Get 24 x 7 access to SmartBrains LMS platform (Online/Offline) with Abundant Content on Process Engineering including Courseware (PPT / PDF), data, case studies, articles, books, videos, examples, presentations, resource library & related more.
Job Oriented Outcomes
Fill the Void of Talent Shortage in Design Engineering by becoming eligible for thousands of High Paying Jobs in India & Abroad with an upgraded profile through this skill & certification. Additionally, Get Promoted from your current position with the added skill set.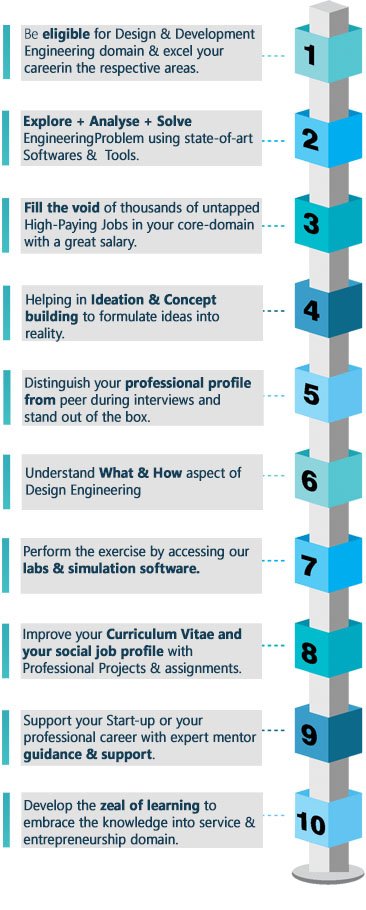 All Aboard – How Google Cardboard Brought VR to the Masses

Welcome to Introduction to XR!
Module Overview
What is XR?
It's All About the IMU
Fast Mobile CPUs
The Optics of VR

From Google Cardboard to Google Earth VR

VR – The Wonder Years
VR Demystified
The VR Platform Landscape – Mobile VR
The VR Platform Landscape – Room Scale VR
Comfort Ratings
VR App Stores and 360 Videos
Categories of VR Apps
UX in VR – The Infinite Screen
Text In VR

Get Ready, Get Set, Pokemon GO!

Spatial Computing
What's the Difference Between MR and VR?
Marker and Face Detection
Unity AR Libraries, SDKs and APIs
Reality is What You Make of It
Location is Key

My Implants Don't Distinguish Between Realities

Convergence on the Horizon
Do You Feel Me?
A Magic Leap Beyond
SmartBrains is associated with The National Skill Development Corporation (NSDC) as the Training and Certification partner for various job oriented training programs across various sectors including Oil & Gas, Power, Renewable Energy, Hydrocarbon, IT & ITs, Electronics, Telecom, Agriculture, Life science etc. offering assessment based Training & certifications for a gamut of job profile.
Who should join?
Working professionals in Domains: Any Graduate & Diploma who has passion for learning & Creativity.
Graphic Designer.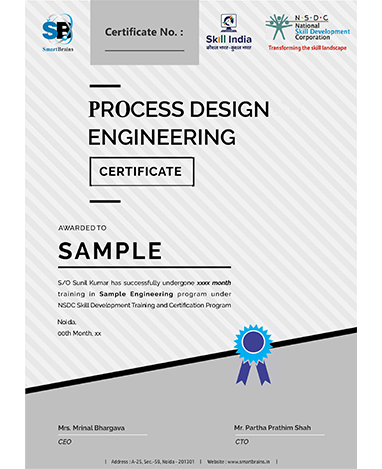 For Corporate queries
A-25, Sector-59, Noida (UP),India
Pin Code-201301
Connect with Program Advisor
training@smartbrains.com
+91 8955560560 | +91 9891108700
www.smartbrains.com
Nodal Centers
Noida, Dehradun
Guwahati, Pune
Course Features
Lectures

0

Training Mode

Online|Classroom

Duration

50 hours

Certification

Yes (NSDC)

Students

0

Assessment

Yes (Third Party)
Get In Touch With Us
[contact-form-7 404 "Not Found"]
Click for brochure :