Solar Power Plant: Design, Engineering and O&M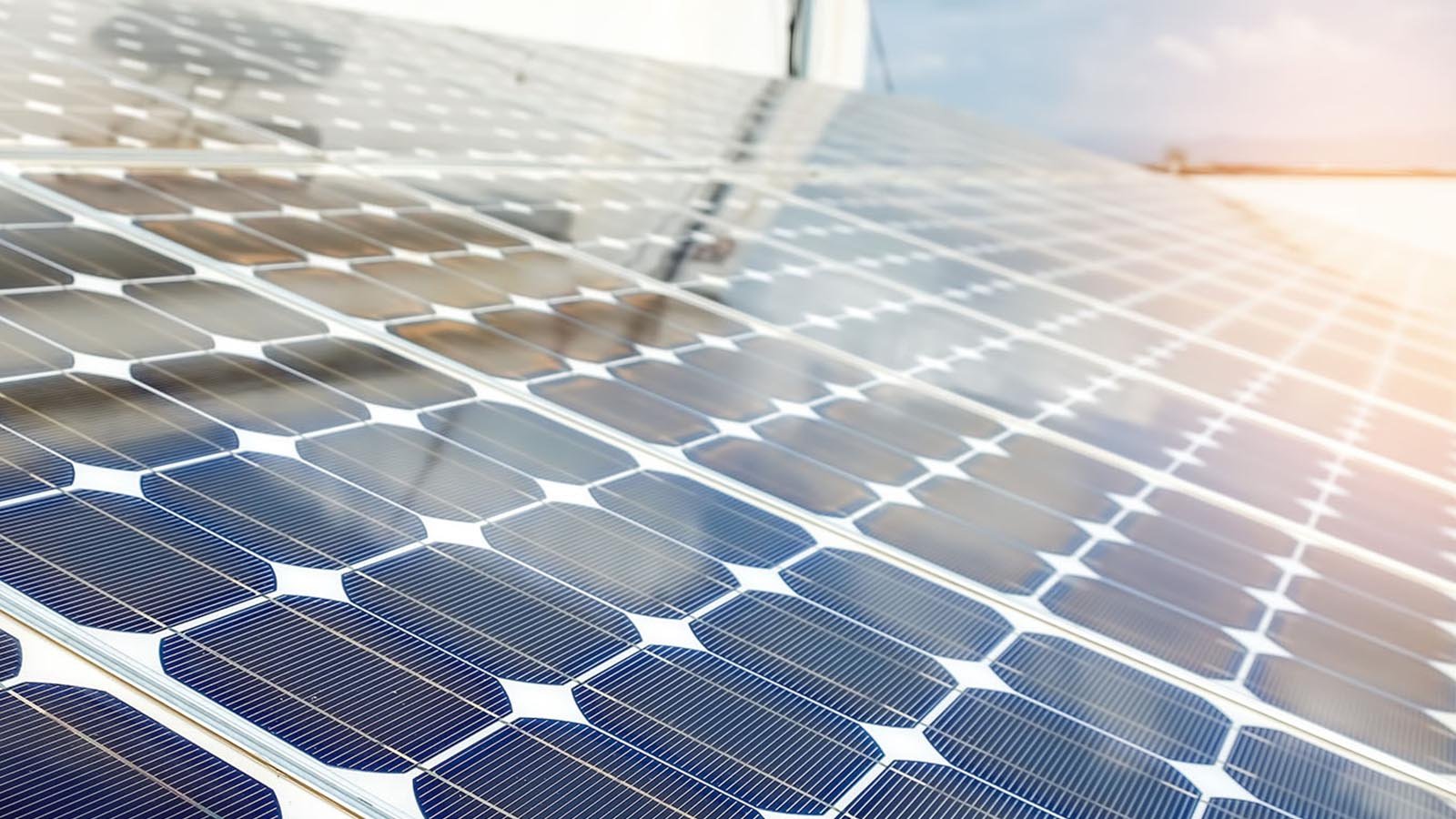 About the Program
The objective of this course is to provide the candidates the Detail knowledge and skills in Solar Power Plant Design, ENgineering, and O & M to facilitate faster learning curves while on the job.
India's power sector is one of the most diversified in the world. Sources of power generation range from conventional sources such as coal, lignite, natural gas, oil, hydro and nuclear power to viable non-conventional sources such as wind, solar, and agricultural and domestic waste. Electricity demand in the country has increased rapidly and is expected to rise further in the years to come. In order to meet the increasing demand for electricity in the country, massive addition to the installed generating capacity is required.
The course is designed to understand the importance of renewable energy resources and its utilization for the thermal and electrical energy needs and also the environmental aspects of these resources. The course is designed to familiarize and train the student with the tools and techniques used to assess the various renewable energy resources and its potential at any location across the globe so that a student is able to analyze a case quantitatively at the end of the term.
Learning objective
Ability to distinguish between the sustainable energy sources and fossil energy sources with emphasis on wind and photovoltaic systems.
Knowledge of the operating principles of renewable energy production from various renewable sources, especially
Knowledge of security and operational requirements of autonomous and net-connected renewable energy systems.
Ability to design simple small autonomous photovoltaic and wind energy systems.
Knowledge of operating principles of geothermal heat pumps.
Ability to compare the advantages and disadvantages of various renewable energy technologies and propose the best possible energy conversion system for a particular location.
Describe the environmental aspects of non-conventional energy resources. Comparison with various conventional energy systems, their prospects, and limitations.
Know the need for renewable energy resources, historical and latest developments.
Describe the use of solar energy and the various components used in the energy production with respect to applications like – heating, cooling, desalination, power generation, drying, cooking, etc.
Appreciate the need of Wind Energy and the various components used in energy generation and know the classifications.
Understand the concept of Biomass energy resources and their classification, types of biogas Plants- applications
Compare Solar, Wind and bio energy systems, their prospects, Advantages and limitations.
Acquire the knowledge of fuel cells, wave power, tidal power and geothermal principles and applications.

Mode / Duration
Learning-Based Outcomes
Get hands-on experience in applying design tools & techniques to real engineering problems and understand Design, Engineering, Construction, O & M, etc. Thus, become a Technology Driven Engineering Professional.
Trainer
Delivered by Senior Industry Professionals having extensive experience in Design & Engineering in diverse domains & industries. These practitioners are also Empanelled as subject matter experts with SmartBrains Engineers & Technologist Pvt. Ltd.
Content
Get 24 x 7 access to SmartBrains LMS platform (Online/Offline) with Abundant Content on Process Engineering including Courseware (PPT / PDF), data, case studies, articles, books, videos, examples, presentations, resource library & related more.
Job Oriented Outcomes
Fill the Void of Talent Shortage in Design Engineering by becoming eligible for thousands of High Paying Jobs in India & Abroad with an upgraded profile through this skill & certification. Additionally, Get Promoted from your current position with the added skill set.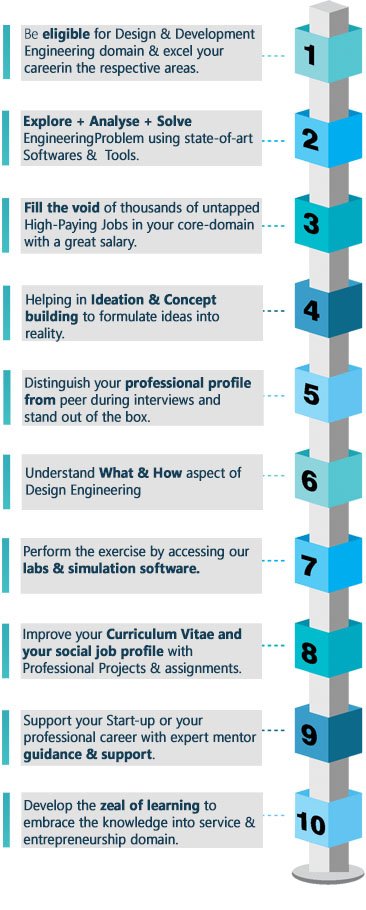 Basic Modules

Energy Situation in the world, Energy flux diagram of earth, Solar Energy Principle, Renewable Energy Sources, overview of possible applications, Renewable Energy in India: Achievements and Potential, Environmental consideration

Principles of Solar Energy:

Sun as Energy Source, Heat and Electricity Generation, General Principles of Solar Thermal Systems, Heat Transfer Fundamentals, Solar Collectors: Flat Plate, Evacuated Tube Collector, Characteristic Equations, Standardization, Comparison of Collector Systems.

Low-Temperature Application:

Fundamental Principles, Swimming Pool Heating, Solar Hot water Systems: Storage Tank, Connecting Pipes, Mounting, Pump, Valves, Control Unit, Heat exchanger, etc., Space heating Systems, Process Heat, Types of Systems: Thermosiphon, Forced Flow, Expansion Tank, Absorber Coatings, Cover, Insulation, Galvanization.

Storage Tank:

Material (Steel, Stainless Steel, Plastic), Combi – Storage, Non-pressurized and Pressurized Tanks, Solar System Storage Tank, Storage with Stratification, Storage Tank with Gas as an auxiliary

Connecting Pipe:

Size, Plumbing Techniques, Expansion tank sizing, Safety valves, Nonreturn valves, Return Flow Preventer

Heat Exchangers:

Basic of Thermodynamics, Type of Heat Exchangers, Materials, Corrosion Protection, Dimensioning.

Heat Pump and Solar Air-Conditioning:

Thermodynamics, Vapor Compression System, Solar Absorption System, Choice of System, Sizing.

Planning and Designing:

The planning process, Estimates of Components' sizing, Site selection, Detailed Calculations, Collector, Heat Exchanger, Storage Tank, Expansion Tank, Mounting, piping, Pump, Control unit, Detailed Cost Estimates, Mounting and Installation, planning with Software Commissioning, Checks & Maintenance
Concentrating Collectors:

Basic concentration concepts, Mirror optics: Solar and Brightness Distribution, Errors in Concentration, Flux density and concentration, Ideal concentrators, Parabolic Geometries, Other Geometries, Central Receivers: Scaling Relationships, Shading calculations, Flux Density Distribution at Receiver, Design Issue and Constraints: System-level Performance, Layout.

Aspects of Solar Power Plant Engineering:

Solar and conventional Power plant: Similarities and Differences, Engineering Aspects: Collection, Energy conversion, Characterization and Physical Properties of Solar Power Plant, Design Aspects: Factors influencing Power and Energy Performance, Design Objectives, Design Process, and Parameters.

Thermal Receivers:

Principle and concepts of energy Transfer, Thermodynamic basis for Receiver Design, Receiver Designs; Tube Receiver Concepts, Volumetric Receiver Concept, Direct Absorption Receiver Concept, Design and Type of Applications, Measurement Technique, Receiver Loss Calculation: Examples.

Thermal Storage for Solar Power Plants:

Impact of Storage on Solar Power plant: Capacity Factor and Solar Multiple, Media for Thermal Storage: Sensible Heat Storage, Latent Heat Storage, Chemical Storage, Thermal Storage for Solar Power Plant, Oil Cooled, Steam Cooled, Molten Salt Cooled, Sodium Cooled, Gas Cooled.

Experience on Solar Thermal Power Plants:

Line Focussing Collectors, Point Focussing Collectors, Central Receiver Plants, Individual Dish Solar Power Plant, Performance Comparison, Performance Model, Economic Analysis.

Analysis of Solar Power Plants:

SPP technologies in Comparison, Investment O&M, Economic Analysis, Market Considerations

Solar Fuel and Hydrogen:

Receiver reactors for Solar Chemistry, High Temperature Processes and conversion, Reforming of Methane, high temperature processes by direct absorption, Electrolytic Production of Hydrogen.
SmartBrains is associated with The National Skill Development Corporation (NSDC) as the Training and Certification partner for various job oriented training programs across various sectors including Oil & Gas, Power, Renewable Energy, Hydrocarbon, IT & ITs, Electronics, Telecom, Agriculture, Life science etc. offering assessment based Training & certifications for a gamut of job profile.
Who should join?
Working professionals in Domains: Site Engineering, .Construction & Commissioning operation & Maintenance, Technicians in Solar Energy Engineering Field.
Students (Electrical & Electronics Engineering, Diploma in Electrical & Electronics Engineering) who want to develop their career in Renewable Energy.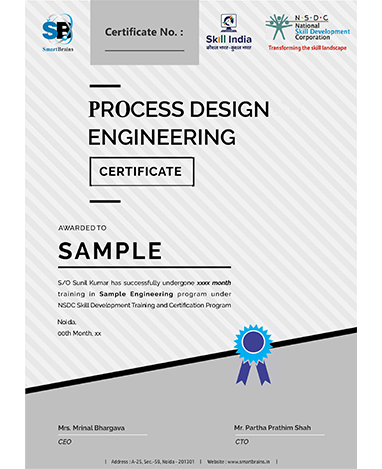 For Corporate queries
A-25, Sector-59, Noida (UP),India
Pin Code-201301
Connect with Program Advisor
training@smartbrains.com
+91 9891108002| +91 9891108700
www.smartbrains.com
Nodal Centers
Noida, Dehradun
Guwahati, Pune
Course Features
Lectures

0

Training Mode

Online|Classroom

Duration

2/6 Months

Certification

Yes (NSDC)

Students

0

Assessment

Yes (Third Party)
Get In Touch With Us
[contact-form-7 404 "Not Found"]
Click for brochure :