Virtual Reality (VR) Technology
About the Program
The increasing possibilities with interactive technology as opened up to virtual classrooms for teaching and educating the students. Research has proven that interactive teaching using such visual technologies is much more effective than the traditional methods which help students understand and gain knowledge better. Virtual reality is used in many training scenarios as it consists of a wide range of benefits for academia and industrial needs.
Learning objective
Produce 3D scenes using Unity and Blender while learning world space and scale
Try various UI (User Interface) techniques that can be used in VR Applications
Learn about the technical basics of VR such as rendering and VR motion sickness
Gain advanced experience in Unity programming using C# language
Interactive product demo artist
Interactive product demo artist
Virtual production developer 3D
VR background artist 3D VR developer
AR/VR unity developer

Mode / Duration
Learning-Based Outcomes
Get hands-on experience in applying design tools & techniques to real engineering problems and understand Design, Engineering, Construction, O & M, etc. Thus, become a Technology Driven Engineering Professional.
Trainer
Delivered by Senior Industry Professionals having extensive experience in Design & Engineering in diverse domains & industries. These practitioners are also Empanelled as subject matter experts with SmartBrains Engineers & Technologist Pvt. Ltd.
Content
Get 24 x 7 access to SmartBrains LMS platform (Online/Offline) with Abundant Content on Process Engineering including Courseware (PPT / PDF), data, case studies, articles, books, videos, examples, presentations, resource library & related more.
Job Oriented Outcomes
Fill the Void of Talent Shortage in Design Engineering by becoming eligible for thousands of High Paying Jobs in India & Abroad with an upgraded profile through this skill & certification. Additionally, Get Promoted from your current position with the added skill set.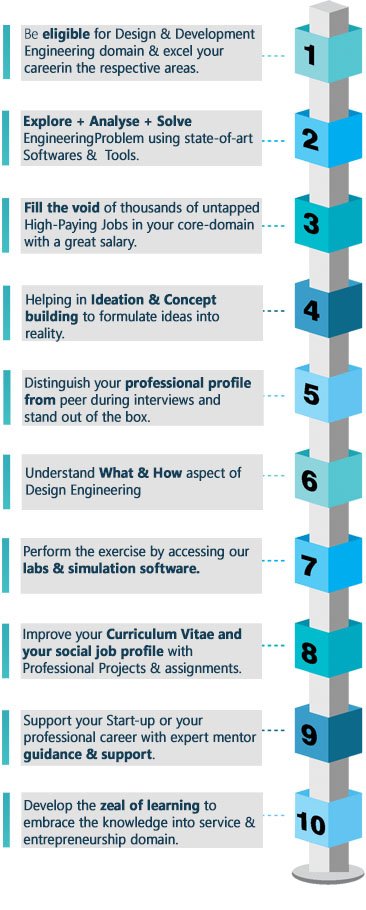 Introduction to VR

What is virtual reality
Modern VR experiences
History

Overview

Introduction to Unity

Getting to Know the Unity Editor
The Project Dialog
The Unity Interface
The Project View
The Hierarchy View
The Inspector View
The Scene View
The Game View
The Toolbar
Navigating the Unity Scene View

Game Objects

Dimensions and Coordinate Systems
Game Objects
Transforms

Models, Materials, and Textures

Built-In 3D Objects
Importing Models
Models and the Asset Store

3D Terrain

Terrain Generation
Terrain Textures
Importing Terrain Assets
Texturing Terrain

Environments

Generating Trees and Grass
Environment Effects
Character Controllers
Lights and Cameras

Collision

Rigidbodies
Collision
Triggers

Prefabs

Prefab Basics
Working with Prefabs

User Interfaces

Basic UI Principles
The Canvas
UI Elements
Canvas Render Modes

Particle Systems

Particles
Particle System Modules

Animators

Animator Basics
Configuring Your Assets
Creating an Animator

Audio

Audio Basics
Audio Sources

Publish and Deploy

Managing Scenes
Unity Player Settings
Building Your Application

Unity Integration with VR

Oculus Rift
Cardboard
GearVR
SmartBrains is associated with The National Skill Development Corporation (NSDC) as the Training and Certification partner for various job oriented training programs across various sectors including Oil & Gas, Power, Renewable Energy, Hydrocarbon, IT & ITs, Electronics, Telecom, Agriculture, Life science etc. offering assessment based Training & certifications for a gamut of job profile.
Who should join?
Working professionals in Domains: Any Graduate & Diploma who has passion for learning & Creativity.
Graphic Designer.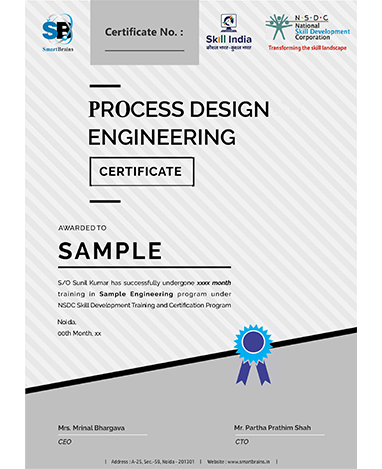 For Corporate queries
A-25, Sector-59, Noida (UP),India
Pin Code-201301
Connect with Program Advisor
training@smartbrains.com
+91 8955560560 | +91 9891108700
www.smartbrains.com
Nodal Centers
Noida, Dehradun
Guwahati, Pune
Course Features
Lectures

0

Training Mode

Online|Classroom

Duration

50 hours

Certification

Yes (NSDC)

Students

0

Assessment

Yes (Third Party)
Get In Touch With Us
[contact-form-7 404 "Not Found"]
Click for brochure :