Introduction to Augmented Reality and ARCore
About the Program
The objective of this course is to provide the candidates the Detail knowledge and skills in Introduction to Augmented Reality and ARCore to facilitate faster learning curves while on the job.
This Course will teach you the fundamentals of augmented reality (AR), and how to build an AR experience using ARCore. This course will break down complex AR concepts to make them easy to understand, while also sharing expert tips and knowledge from Daydream's ARCore team. The course is great for beginners who are just getting started with AR or ARCore.
Learning objective
How to identify different types of AR experiences
Tools and platforms used in the AR landscape
What makes AR feel "real"
Popular use cases for AR
How to create an AR use flow
How AR experiences work
Tools like Google Poly and Unity to build AR experiences
Next steps to start building an AR experience using ARCore and other tools

Mode / Duration
Learning-Based Outcomes
Get hands-on experience in applying design tools & techniques to real engineering problems and understand Design, Engineering, Construction, O & M, etc. Thus, become a Technology Driven Engineering Professional.
Trainer
Delivered by Senior Industry Professionals having extensive experience in Design & Engineering in diverse domains & industries. These practitioners are also Empanelled as subject matter experts with SmartBrains Engineers & Technologist Pvt. Ltd.
Content
Get 24 x 7 access to SmartBrains LMS platform (Online/Offline) with Abundant Content on Process Engineering including Courseware (PPT / PDF), data, case studies, articles, books, videos, examples, presentations, resource library & related more.
Job Oriented Outcomes
Fill the Void of Talent Shortage in Design Engineering by becoming eligible for thousands of High Paying Jobs in India & Abroad with an upgraded profile through this skill & certification. Additionally, Get Promoted from your current position with the added skill set.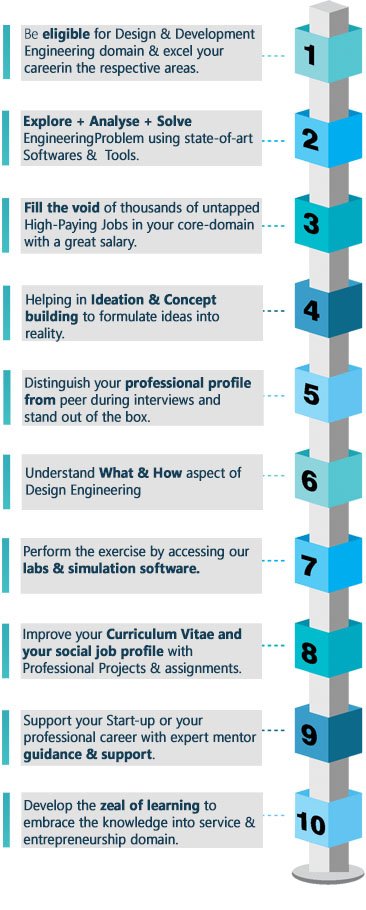 Introduction to augmented reality (AR)

Introduction
The history of augmented reality
AR today: smartphone vs. standalone
Google AR
AR for shopping and retail
AR for business
AR for social media
AR for gaming
AR for education
AR for healthcare
AR for nonprofits

The basics of AR functionality

Placing and positioning assets
Scale and the size of assets
Occlusion
Lighting for increased realism
Solid augmented assets
Context awareness
Tracking in AR
Outside-in tracking
Inside-out tracking
Motion tracking
Environmental understanding: feature points and plane-finding
Light estimation
Anchors
Interface issues and lack of UI metaphors
AR's technical constraints: size, power, heat
The 3D barrier
Computer vision limitations
Constraints of occlusion and shading

 Taking the next steps with ARCore

The Android OS is everywhere
How low-light conditions limit AR on mobile
How simple surfaces challenge AR
User flow
Working with technical limitations
If you build it, they might try to break it
Preparing your tools
Outlining: drafting your design
Building the team to execute your vision

Bringing ARCore to life

Surface detection and creating planes
User interaction: hit-testing and pose
Placing with anchor points
Occlusion between virtual assets
Light estimation: matching virtual light to real light
Multi-plane detection and spatial mapping
Processing needs in mobile AR
Breaking immersion
Framing as a creative device
What is Poly?
What is Unity?
SmartBrains is associated with The National Skill Development Corporation (NSDC) as the Training and Certification partner for various job oriented training programs across various sectors including Oil & Gas, Power, Renewable Energy, Hydrocarbon, IT & ITs, Electronics, Telecom, Agriculture, Life science etc. offering assessment based Training & certifications for a gamut of job profile.
Who should join?
Working professionals in Domains: Any Graduate & Diploma who has passion for learning & Creativity.
Graphic Designer.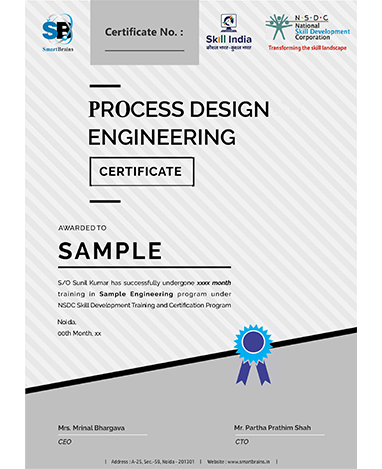 For Corporate queries
A-25, Sector-59, Noida (UP),India
Pin Code-201301
Connect with Program Advisor
training@smartbrains.com
+91 8955560560 | +91 9891108700
www.smartbrains.com
Nodal Centers
Noida, Dehradun
Guwahati, Pune
Course Features
Lectures

0

Training Mode

Online|Classroom

Duration

50 hours

Certification

Yes (NSDC)

Students

0

Assessment

Yes (Third Party)
Get In Touch With Us
[contact-form-7 404 "Not Found"]
Click for brochure :